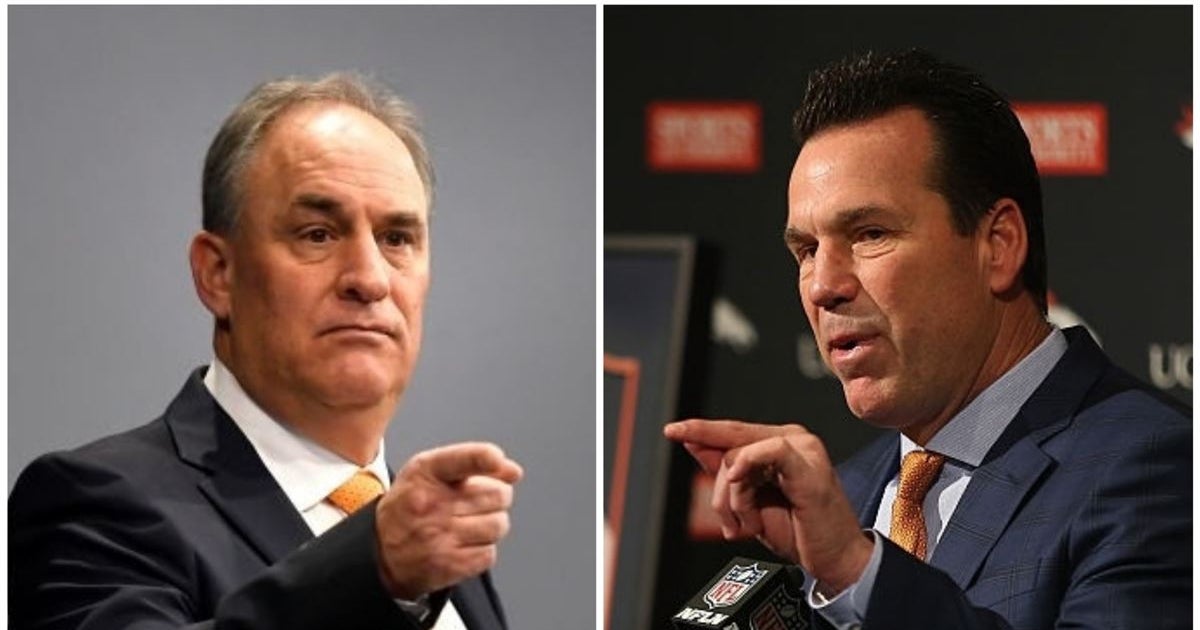 On Friday we learned that after meeting face-to-face, and deliberating over the decision, Vic Fangio will not be offering the Denver Broncos' offensive coordinator job to Gary Kubiak. The news sent shockwaves through Broncos Country, and some fans were not happy about Kubiak — whose fingerprints are on all three of Denver's Lombardi Trophies — not being involved on the coaching side.
Only time will tell whether Kubiak will remain as a senior personnel advisor to John Elway in the Broncos' front office, but he does remain under contract. The way I see it, Fangio made the right decision, as did Elway in terms of backing his new head coach.
No division of loyalties in the locker room
When the news broke early Wednesday that the Broncos were set to hire Vic Fangio as head coach — while saddling him with Gary Kubiak as offensive coordinator — it split Broncos Country down the middle.
Some fans were excited about the idea of the familiar Kubiak, who would bring with him a championship pedigree. Others took it as a sign that John Elway, and by extension Vic Fangio, were still stuck in the past, dragging their feet as it pertains to the offensive evolution taking place in the NFL.
I viewed Kubiak's assumed involvement under Fangio through a skeptical lens, as the listeners of the Huddle Up Podcast (listen/subscribe below) can attest. Sure, I could have put a positive spin on it, and pointed to a first-time head coach in Fangio having a former World Champion head coach his No. 1 offensive assistant, but what boon that might have been would have been mitigated by the odd psychology of the Broncos having been Kubiak's team just three short years ago.
Throw in the fear that Kubiak might have the clout to undermine Fangio with Elway, if push ever came to shove, and suffice to say that such a theoretical marriage was replete with misgivings. Fangio doesn't have to worry about any division of loyalties in the locker room, nor will he have to look over his shoulder or second-guess every decision, because Kubiak looms in the back ground
Kubiak's scheme is out-dated
This is to say nothing of Kubiak's scheme itself. While he has never lost his savvy as a situational play-caller, Kubiak's schematic philosophies are outdated.
His two years as Broncos' head coach were proof enough of that. Who asks the great Peyton Manning, you know, the five-time NFL MVP, to abandon his wealth of schematic expertise in order to go under center and play out of the pistol in an alien system in his 18th year?
Kubiak is lucky it worked. Aside from the defense (obviously), I'd credit the way Kubiak handled the quarterback controversy situation in-season as the more impactful offensive decision that led to Super Bowl 50 than the actual X's and O's of his offense.
It took some cashews to bench Manning in the first place, though he was injured, and great intuition and resolve to re-install him as the starter in Week 17 with Brock Osweiler inching ever closer to throwing away the No. 1 seed in the AFC with each of his four interceptions.
But I digress. That's all in the past. Were it not for an inspired effort, and Wade Phillips catching lightning in a bottle in that playoff run, the Broncos were not built to win it all offensively. The 2015 Broncos are up there with the 2000 Ravens as one of the worst modern offenses to ever win a World Championship.
What's next for the Denver Broncos? Don't miss out on any news and analysis, take a second to sign up for our FREE Broncos newsletter, delivered three times daily!
Gary Kubiak doesn't appear willing to tweak his West Coast offense and graft in the RPO and college concepts like we've seen some of his peers do to great success, such as Sean McVay, Kyle Shanahan, Andy Reid and others. It's the way the NFL is going, and nobody knows better than Vic Fangio.
Fangio has been tasked with stopping the proliferation of these college-style offensive philosophies, and though it hasn't been easy, he has won more battles than he's lost when he's had to cross swords with these cutting-edge offenses.
Fangio held McVay's Rams to the lowest scoring output of McVay's head-coaching career this past season in Chicago, with the Bears emerging victorious 15-6. Denver's new head coach understands how the sausage gets made on both sides of the ball, and more importantly, he recognizes the importances of keeping up with the times.
The Broncos have not done that over the past four seasons, and apparently, Kubiak is/was unwilling to make any changes to his system that might propel the Broncos into the 21st century offensively.
Out with the old coaching blood, in with the new
Then there's the issue of coaching personnel. Kubiak's loyalty streak is admirable, and it's renowned league-wide, but what type of coaches the Broncos hire is entirely Fangio's purview.
Kubiak wanted to bring back Rick Dennison and Brian Pariani, two of his most trusted and longest-tenured assistants. But Elway wanted Kubiak to fire both Dennison and Pariani, I've been told, at the end of the 2016 season had Kubiak stayed on as head coach.
It was probably the straw that broke the camel's back, in terms of Kubiak making his decision to step down as Broncos head coach, though the public talking points were all about his health. Fangio listened to Kubiak's plan for the Broncos offense this week, and when it didn't appear that that Kubiak was willing to be flexible and open to evolving his scheme and updating his coaching personnel, the writing was on the wall.
Why would Fangio deign to hire an average coach like Dennison to coach the Broncos' O-line, when the Broncos could realistically get Mike Munchak — the best O-line coach in the business?
If Kubiak said no to Munchak in favor of Dennison, again, the loyalty streak is admirable, but it would be a sign that his priorities aren't straight. Fangio is about doing what's best for the Broncos, within the scope of his own vision for the team (his job as head coach), while Kubiak's plan was unrelenting and seemingly focused on himself. Dare I say arrogant even. 
Bottom line
I get it. With Kubiak's bona-fides and resume, he feels like he deserves to be able to call his own shots if he's going to be hired as an offensive coordinator. But not being open whatsoever to change and dialectic? That's the last thing the Broncos need right now.
Vic Fangio made a tough decision, but I applaud him for it. Kubiak is a legend in Denver, and Fangio in so many words told him to pound sand in the face of intense public scrutiny.
As much as the Broncos need to get back to the fundamentals of football, they also need to evolve with the times. The bitter truth is that Kubiak is old hat, while Fangio, despite his relatively advanced age, is trying to walk the razor's edge of using what has worked traditionally in the past, while also looking to improve the Broncos through new coaching blood and innovative thinking, which can carry the team into the future. 
It was a power move and it established the posture Fangio needs with the players and coaches inside the building, and favorable optics outside. Talk about setting the tone. I tip my cap to him, and to Elway, for butting out.