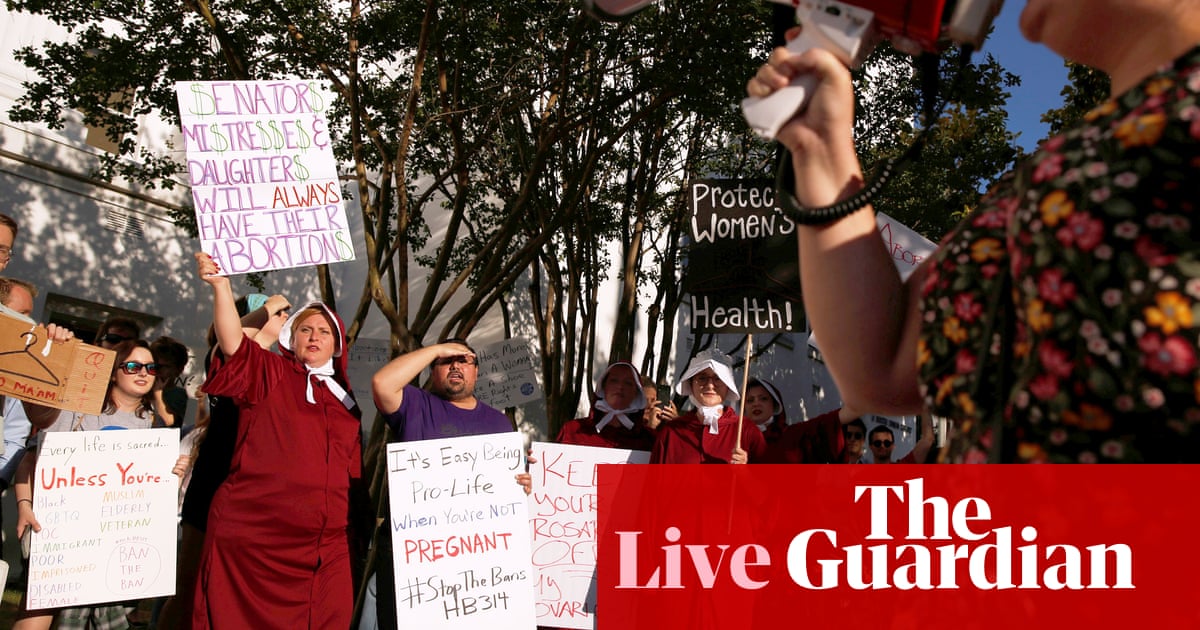 Alabama's Republican-controlled state senate passed yesterday the most restrictive abortion law in the nation, making it a crime to perform the procedure at any stage of pregnancy. Today, despite protests and lawsuits, governor Kay Ivey signed the bill into law.
More from the governor:
In all meaningful respects, this bill closely resembles an abortion ban that has been a part of Alabama law for well over 100 years. As today's bill itself recognizes, that longstanding abortion law has been rendered "unenforceable as a result of the U.S. Supreme Court decision in Roe v. Wade."

No matter one's personal view on abortion, we can all recognize that, at least for the short term, this bill may similarly be unenforceable. As citizens of this great country, we must always respect the authority of the U.S. Supreme Court even when we disagree with their decisions. Many Americans, myself included, disagreed when Roe v. Wade was handed down in 1973. The sponsors of this bill believe that it is time, once again, for the U.S. Supreme Court to revisit this important matter, and they believe this act may bring about the best opportunity for this to occur.
If you want some more context for the whole national emergency telecoms threat, take a listen to this episode of Today in Focus in which Guardian reporters Rupert Neate, Alex Hern and Tania Branigan discuss Huawei, the company at the center of it all.
Senator Kamala Harris tossed some sass into the Democratic race today when she was asked about running mates.
Typically when this question comes up for the junior senator from California, it's framed around whether she would be this or that candidate's vice president. Instead, she turned the question on its head and pulled in former vice president Joe Biden, who has a strong lead in almost every national poll.
"If people want to speculate about running mates, I encourage that, because I think that Joe Biden would be a great running mate," she said. "As vice president, he's proven that he knows how to do the job."
"Good Morning America" announced that New York mayor Bill de Blasio is scheduled to appear on the show tomorrow morning, sending tongues wagging that he will be announcing that he will be the 24th candidate in this race.
Within minutes, a campaign spokeswoman confirmed the announcement to NBC News.
President Trump has long been outspoken about social media companies banning far-right and other extremist figures. Today, it appears that the White House has launched a tool for people to report if their accounts had been "suspended, banned, or fraudulently reported for unclear 'violations' of user policies".
"SOCIAL MEDIA PLATFORMS should advance FREEDOM OF SPEECH," the landing page reads.
"No matter your views, if you suspect political bias caused such an action to be taken against you, share your story with President Trump."
Visit the page here.
Hey all, Vivian Ho taking over the blog for Joanna Walters and Jessica Glenza. In case you missed it, here's FCC chairman Ajit Pai's statement on President Trump's national emergency declaration over alleged telecoms threats from foreign companies.
Here's a quick recap of what's been happening this Wednesday afternoon:
Donald Trump on Wednesday signed an executive order declaring a national emergency and barring US companies from using telecommunications equipment made by firms posing a national security risk, paving the way for a ban on doing business with China's Huawei Technologies Co, Reuters writes.
The news agency had reported yesterday that Trump was expected to take action on the long-awaited proposal this week.
The executive order invokes the International Emergency Economic Powers Act, which gives the president the authority to regulate commerce in response to a national emergency that threatens the United States.
The order directs the Commerce Department, working with other government agencies, to draw up a plan for enforcement.
Amid a deepening trade war with China, President Trump on Wednesday declared a "national emergency" to protect U.S. communications networks in a move that gives the federal government broad powers to bar American companies from doing business with certain foreign suppliers — including the Chinese firm Huawei, the Washington Post writes.
More to follow….
Now back to the issue of the day: abortion rights.
This hour we travel metaphorically to Utah, where a chief prosecutor in the county with the state's only two clinics that provide abortion has said he won't enforce strict, new legislation there.
A recent law in Utah bans abortions after 18 weeks of pregnancy, and is already the subject of a court challenge and cannot currently be enforced, the Salt Lake Tribune has reported.
This week the Salt Lake County district attorney, Sim Gill, a Democrat, became the latest example of an official resisting ultra-conservative new restrictions around the US.
Gill said the Utah ban appears unconstitutional, so any idea of taking up the legislation's provision to file felony charges against doctors who perform abortions, as the court challenge plays out, could violate their rights.
"I think that's the only legal and ethical thing for me to do, which is not use the power of my office to violate the constitutional rights of my citizens when there is well-established precedent that says it is unconstitutional," he said, the AP reports.
The decision by Gill and echoes a similar one from the attorney general of Michigan.
With anti-abortion advocates optimistic designing extreme legislation as a route to challenging Roe vs Wade, blue-leaning states are moving to secure access to abortions.
Against that backdrop, pushback from prosecutors could become more common, especially in politically mixed areas, said Mary Ziegler, a professor at Florida State University College of Law.
Prosecutors also have a lot of discretion about how laws are enforced because they decide who to charge and what cases to file. Before the 1973 decision legalizing abortion, many bans weren't enforced unless there were complications, Ziegler said.
"You'll see more statements of this kind. But how they'll be enforced is much more complicated than what first may seem to be the case," she said.
Most laws have exceptions. The measure in Utah has allowances for cases of rape, fatal fetal deformity and serious detriment to a woman's health.
Like Utah, Arkansas has also passed a ban on abortions after 18 weeks.
Gill secured a federal order on Monday confirming his office won't have to enforce the measure while the court challenge there plays out.
However, if the law is eventually upheld by the US Supreme Court, Gill said, he likely would have to enforce it.
"My job is to keep my personal beliefs out of it, but I absolutely believe that our citizens have constitutional rights and our institutions have an obligation to serve those citizens and not simply roll over and play dead," he said.
Michigan's attorney general, Dana Nessel, also a Democrat, pledged at a state Planned Parenthood conference not to enforce the state's pre-existing abortion ban if Roe is ever overturned.
This afternoon the president, once again, decided to tweet-vent against the New York Times and the Washington Post, calling both organs fake news for reporting that there's in-fighting among his foreign policy team.
As this was happening, a California man who threatened to kill employees of the Boston Globe after the newspaper last year called on media organizations nationwide to denounce Donald Trump's attacks on the media pleaded guilty in federal court, prosecutors said.
Robert Chain, 68, of Los Angeles, pleaded guilty to seven counts of making threatening communications in interstate commerce, the US attorney's office in Boston said in a statement, according to the Associated Press.
He faces five years in prison per count at his sentencing, scheduled for September 23.
Neither Chain nor his attorney spoke when they left court. But his attorney, William Weinreb, said last month his client took "full responsibility" for his actions.
"He is anxious to make a full, public apology, expressing his sincere remorse to those he affected," Weinreb said in an email last month.
Related