40th over: Pakistan 252-3 (Shoaib 11, Asif 1) The new batsman is the muscular Asif Ali.
"For the purposes of assuaging Paul Billington's fears, I can confirm that Test Match Cricket is a magnificent game," says Tom Hopkins. "Batting by letting go of a bit of string is surprisingly satisfying. Far from giving up, he should be redoubling his efforts, charity-shopwise. I myself have the 'World Cup Cricket' version. The boast on the box is, 'Even better than the real thing!' This may or may not be a comment on the Ronnie Irani years."
Tom Curran's slower ball does the trick. Babar Azam scoops it towards the cover boundary, where Archer runs in and dives forward to take a fine low catch. Babar made a lovely 115 from 112 balls.
39th over: Pakistan 242-2 (Babar 111, Shoaib 6) Pakistan need to score around 10 an over for the rest of the innings to reach 350 – and even that would be an under-par total. They manage it in that over, with Babar timing consecutive boundaries off Wood.
"Don't know if anyone has said so, but the run a ball hundred from the top of the order hurts the batting team more than the bowling team," says Dave Seare. "Any acceleration after that still doesn't get back the balls taken away from quicker players down the order."
38th over: Pakistan 232-2 (Babar 102, Shoaib 5) Babar Azam reaches his ninth ODI hundred from 104 balls, flicking Tom Curran to fine leg for four. He's played with such class and grace, though Pakistan would have wanted him to get to the century a bit sooner.
37th over: Pakistan 220-2 (Babar 96, Shoaib 0) "I just opened the OBO and saw 199-1 off 34 overs," says Avitaj Mitra. "Ten years ago, that would have meant my internal voice going, 'Oh wow'. Now it's just, 'Oh'."
That's very good from Mark Wood. Hafeez, beaten for pace, mistimes a pull straight to the substitute Chris Jordan at mid-on. A wicket-taking threat in the middle overs is so important for any team, especially on these pitches. Wood's speed has been the same in the second spell as it was in the first, which is a really good sign.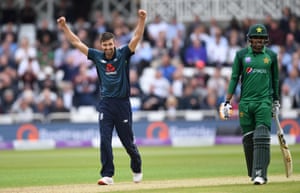 36th over: Pakistan 217-1 (Babar 94, Hafeez 58) Hafeez skids back to hoick Moeen over midwicket for six. He has gone up a gear, but Babar is crawling – these things are relative – towards his hundred.
"Hi, Rob," says Smylers. "In suggesting David Willey will miss out on the World Cup squad, Rich Ibbetson praises Tom Curran's bowling in the final overs (31st over) — as did Jimmy Anderson during coverage of a previous match in this series. But CrizViz have pointed out that of recent averages in overs 41–50, Tom Curran's economy rate (7.3) is worse than the other contenders'. The best is David Willey's (5.4). Does Tom Curran have something that the stats don't show?"
48 different slower balls? I'd imagine Curran takes more wickets at the death as well, though I might be wrong. I won't lie to you, it wouldn't be entirely without precedent.
35th over: Pakistan 206-1 (Babar 91, Hafeez 50) Mark Wood replaces Jofra Archer and is sweet-spotted through the off side for four by Hafeez, who thus reaches a useful 49-ball fifty. That's drinks.
"Hi Rob," says John Withington. "To save me the cost of a text, and get me "in print" please remind Brian Withington what the first rule of fight club is. I can't imagine a less effective way of reducing competition on an eBay bid than telling people on here about it and then extolling the virtues of the game at the cost of besmirching the alternatives. Having said that he does have a point about the latter. And it's the Boldmere Bengals rather than Erdington Earls otherwise there goes the house value."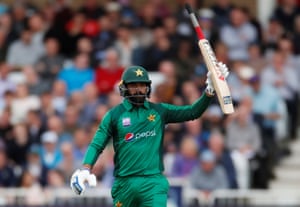 34th over: Pakistan 199-1 (Babar 89, Hafeez 45) Pakistan are cruising to defeat – or, at least, cruising towards a score that England will overhaul eight or nine times out of 10. Hafeez tries to do something about it with a lusty straight six off Moeen – and then he survives a missed stumping from Buttler. Hafeez gated himself, trying to hack Moeen to the leg side, but survived when Buttler failed to take the ball cleanly.,
"I've never played the Test Match game," says Paul Billington, "but I followed a thread on the OBO some years ago which has led to me seeking a set of it in every charity shop I pass / am dragged into. It just looks wonderful. It has been the only thing to have kept me going through the rows and rows of Global Hypercolour T-shirts, plastic vases and copies of American Pie straight-to-DVD fillums. I do hope that Mr Withington's message is in jest, as otherwise I'll have wasted so many hours. Tread softly, because you tread etc etc."
33rd over: Pakistan 191-1 (Babar 88, Hafeez 38) Hafeez, beaten for pace by the previous delivery, cracks Archer emphatically through extra cover for four. Such boundaries are an occupational hazard, and Archer's overall figures are excellent: 6-0-28-0.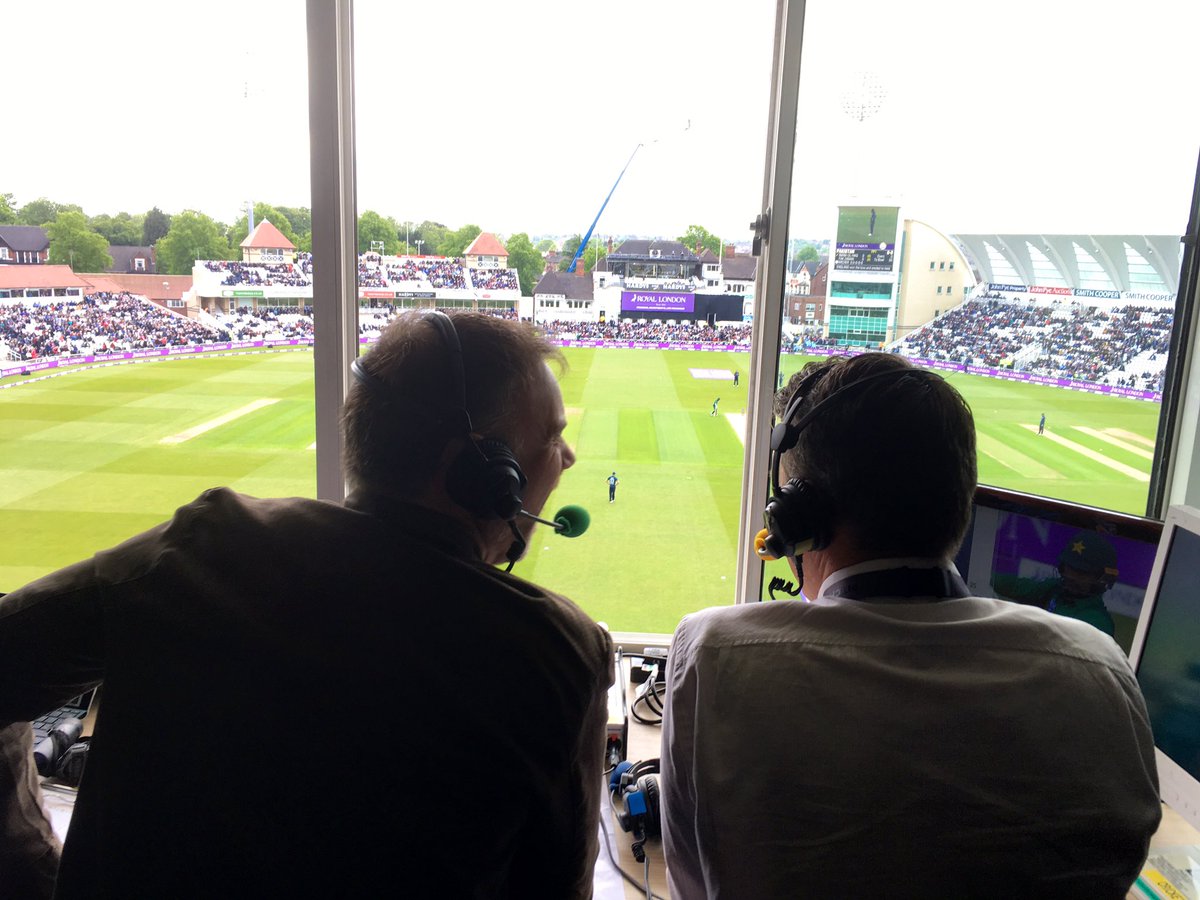 32nd over: Pakistan 186-1 (Babar 88, Hafeez 33) Another quiet over from Moeen, who is almost bewilderingly effective at keeping the runs down in ODIs.
"Hi Rob – re 75 runs off 74 being too slow, that sort of thing is becoming more and more common," says Luke Dealtry. "Chris Gayle scored 135 off 129 in Barbados earlier this year – and it was much, much too slow. So if you're that batsman 'struggling' with a strike-rate of 100, what do you do?"
Goodness knows.
31st over: Pakistan 181-1 (Babar 86, Hafeez 30) With England wanting a wicket, Jofra Archer replaces Adil Rashid (6-0-41-0). His first over back is good, including consecutive deliveries that beat Babar Azam outside off stump. The first was a cross-seamer, the second a slower ball. He has a lot of toys with which to play,
"David Willey," says Rich Ibbetson. "As much as it pains me to say it, he's going to get the chop, not Curran as you speculated earlier. He's at his best bowling up top, but Woakes and Archer are surely first choice for that, with others also able to do a job opening up, particularly Wood. Curran offers more threat at the death, when England could be vulnerable, Wood's got pace and Plunkett just gets wickets. I can't help but feel Willey has been a bit unlucky that England haven't deemed an experiment of sticking Willey in as a pinch-hitter at the top worthy for consideration, but too late now for such higgery diggery…it's sad, but Willey's for the chop I feel."
Well. It's possible, but he has more credit in the bank than Curran and I suspect that will be decisive. He's also a great option to have if they turn up one morning and it looks like the ball will swing. It's so tight, though. As for the pinch-hitting, why on earth would you want to compromise the current top order? His runs down the order can be useful though; Lord's last year is a particularly good example.
30th over: Pakistan 178-1 (Babar 86, Hafeez 28) Moeen Ali replaces Ben Stokes (4-0-22-0) and almost strikes when Hafeez mistimes a drive that just evades Stokes, running back towards the boundary from mid-off. Six from the over, all in ones and twos.
"I remember that Dirk Wellham innings well," writes Richard O'Hagan. "Despite the fact that it was the second innings of a dead rubber in that famous series, England were so competitive that they kept him on 99 for about 45 minutes. He never passed 50 in Tests again and is now the schoolteacher he always looked like (well, he was a dead ringer for my old science teacher, Mr Hall, anyway)."
The thing I always remember about that Test is that, even though it was a dead rubber and he'd been walking on water for most of the summer, Botham still bowled forever. Look, 89 overs in the match!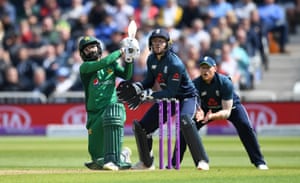 29th over: Pakistan 172-1 (Babar 83, Hafeez 24) What a piece of fielding from Jason Roy! Hafeez belted a full toss from Rashid to long-off, where Roy leapt backwards over the rope, took the catch and got rid of the ball before he hit the ground. There was nobody near enough to take the relay catch – yet Roy was still annoyed that he hadn't managed to throw it to another fielder. In reality it was a stunning piece of fielding which saved five runs.
England lose their review later in the over, appealing unsuccessfully for caught behind against Hafeez. It hit the thigh pad and nothing else.
28th over: Pakistan 169-1 (Babar 81, Hafeez 23) A wide half-volley is pinged through extra cover for four by Babar, another piece of sweet timing. England are having a miserable time out there, yet they are slightly on top in the match. Such is the confusing world of modern ODI cricket.
27th over: Pakistan 161-1 (Babar 76, Hafeez 21) "I would have got Dirk Wellham!" says Max Bonnell. "He was my club captain in Sydney. I think you'll find that during his Test debut 103, he was dropped at mid-on on 99 by one Geoffrey Boycott. Plus, Prithvi Shaw has now become the third player to score hundreds on both first-class and Test debuts. Weirdly, Virender Sehwag scored a hundred on Test debut and a hundred in his first first-class innings, but that came in his second game, as he didn't bat on his debut."
My work here is done. Bye!
26th over: Pakistan 159-1 (Babar 75, Hafeez 19) Babar flogs a pull over midwicket for four off Stokes. He clunked it a bit but it had enough to clear the diving fielder. I feel dirty saying that because he's made 75 beautiful runs from 74 balls, but I'm not sure Babar's strike rate is fast enough for Pakistan to win this game.
"Rob," says Brian Withington. "Shirley some mistake – Test Match Cricket is to Subbuteo as the Hundred is to the Ashes – for the callow novice and short attention spanned, I'm afraid."
Well that's my childhood telt.
25th over: Pakistan 148-1 (Babar 69, Hafeez 17) "I loved that Test Match Cricket game, but the only person I could find to play it with me was my brother, who was 3 years older than me and much, much better at it than I was (and at most actual sports come to think of it)," says Dave Voss. "He always batted first and would rack up about 1,200 before bowling me out for less than 50. Still, it wasn't all bad news. The experience prepared me nicely for English cricket in the 90s."
24th over: Pakistan 142-1 (Babar 67, Hafeez 12) It's a strange thing to say, but this innings feels like filler before the England run-chase. Pick a target, any target; wake me up at 5pm. I do think ODI cricket would benefit from a bit more ebb and flow and a bit less bish and bosh. That said, there is a skill in keeping a score below 350 – both in the bowling and the fielding, as an England fielder whose name must be withheld for legal reasons* reminds us with a great stop at backward point off the final ball of Stokes's over.
* and because I haven't a clue who it was.
23rd over: Pakistan 138-1 (Babar 66, Hafeez 9) A big over for Pakistan – 16 from it. Babar waves Rashid through the covers for four, Hafeez clouts a slog-sweep high over midwicket for six and then Babar belabours another boundary through extra cover.
"Good lord, Rob, you are right – Gundappa Viswanath scored 230 on first class debut (on matting!) and 137 in his first Test a year later," says Pete Salmon. "Well done you. Begs the question though whether if I had said Vishy you would have got Dirk Wellham…"
Yes! Yes! Yes! (Erm, no. Not sure why or how I had Viswanath's name in my head, either. I suppose deep down I knew a desperately lonely adolescence reading Wisden Cricket Monthly from cover to cover in lieu sex, drugs or rock 'n' roll would pay off one day.)
22nd over: Pakistan 122-1 (Babar 57, Hafeez 2) Ben Stokes comes into the attack. He's hasn't been in great form in white-ball cricket, particularly with the ball, and could do with a decent spell – or even just an extended one. He has bowled 10 overs only once in his last 33 ODIs.
21st over: Pakistan 119-1 (Babar 56, Hafeez 1)
"Hi Rob," says Brian Withington. "The Withington brothers are currently plotting a summer of revivalist retro home entertainment to accompany the World Cup and Ashes. Subbuteo cricket features high on the agenda. Beloved cocktail specialist John is now devising fiendishly complex tournament rules for various mixed era player attributes, with the prospect of IPL style auctions to deliver competitive franchises such as the Hackney Hackers, Dorridge Daredevils and the Erdington Earls. Brother David is meanwhile whittling a variety of bats to simulate everything from Boycott blocking to Gayle bashing. Would appreciate OBOers not rushing to outbid me on the 80 player eBay lot I currently have my eye on."
Test Match Cricket, Shirley.
20th over: Pakistan 116-1 (Babar 54, Hafeez 0)
Tom Curran is rewarded for a fine over with the first wicket of the innings. There was only one run from the first five balls, which prompted Fakhar to go for a big shot that he sliced high in the air towards third man. Wood ran in and dived forward to take a beautifully judged low catch.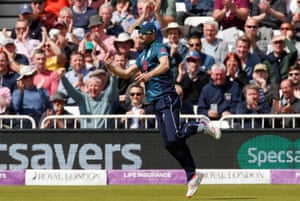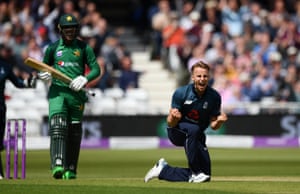 19th over: Pakistan 115-0 (Fakhar 57, Babar 53) Adil Rashid replaces Joe Denly, who bowled a useful spell of 5-0-27-0, and Fakhar makes room to scorch a boundary over mid-off. Pakistan are on course for another huge score here.
18th over: Pakistan 106-0 (Fakhar 50, Babar 51) Babar and Fakhar reach their fifties in the same Curran over; Babar's came from 49 balls, Fakhar's from 44. They complement each other nicely – right-hand and left, finesse and power, straight bat and horizontal bat. They have one thing in common: they both average over 50 in ODIs.
17th over: Pakistan 101-0 (Fakhar 49, Babar 47) When he bowled that one over on Tuesday, most of us assumed Joe Denly's World Cup hopes were over. This spell might change that, as he has landed it well and been reasonably economical.
16th over: Pakistan 97-0 (Fakhar 47, Babar 45) A short ball from Curran is pulled carefully round the corner for four by Fakhar. England, although they have bowled pretty well, do not look like taking a wicket.
15th over: Pakistan 89-0 (Fakhar 41, Babar 44) Babar Azam skips down the pitch to drive Denly sweetly to long-off for a one-bounce four. This guy is a beautiful player, so classy in everything he does.
14th over: Pakistan 80-0 (Fakhar 38, Babar 38) Babar drives Curran pleasantly through mid-off for three. Pakistan's batsmen look very comfortable, and in a sane world this would be an excellent start to the innings. In 2019, it feels like they are short of par.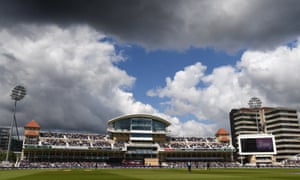 13th over: Pakistan 74-0 (Fakhar 36, Babar 34) Denly is doing a decent job, with five from his third over. He looks much better today than he did in that slightly hideous over at Bristol.
12th over: Pakistan 69-0 (Fakhar 33, Babar 32) Tom Curran replaces Mark Wood and bowls a decent first over; just four from it. Meanwhile, Imam-ul-Haq has gone to hospital for an X-ray on his elbow.
11th over: Pakistan 64-0 (Fakhar 31, Babar 30) An excellent second over from Denly, with some nice loop and a good delivery that brings an unsuccessful LBW appeal against Babar. He was a long way down the track at the point of impact, and might have been hit outside the line as well.
10th over: Pakistan 63-0 (Fakhar 30, Babar 30) A wide half-volley from Wood is driven magnificently through extra cover by Babar. It's easy to see why he averages over 50 in ODIs and IT20s, as he has so much class. I'm surprised his Test average is only 35, though that will surely improve over time. Wood, meanwhile, has figures of 5-0-35-0; he deserves better.
9th over: Pakistan 57-0 (Fakhar 30, Babar 24) Effing hell, it's Joe Denly! He's coming on to bowl his leg spin during the Powerplay, which is an interesting decision from Jos Buttler. His first over goes for eight, including a long hop that is cut for four by the classy Babar Azam. That aside it was a respectable over from Denly.
8th over: Pakistan 49-0 (Fakhar 28, Babar 18) Oof. Mark Wood's fourth over has just disappeared for 15. A length ball was smeared over midwicket for six by Fakhar, who followed that with consecutive boundaries. Wood did produce a jaffa later in the over, a full-length outswinger to beat Babar.
"I'd be interested in your thoughts on who now makes the cut for the World Cup," says lone wolf Chris Drew.
I think Dawson will replace Denly, and Curran will miss out. I am also good at parties. You?
7th over: Pakistan 34-0 (Fakhar 13, Babar 18) Fakhar dismisses a length delivery from his presence, flick-pulling it behind square on the leg side for four. After a slow start, the boundary festival has begun.
"Reggie Bull should certainly go," says Tim, "since he missed the double e for Pakistan's Hafeez!"
6th over: Pakistan 27-0 (Fakhar 7, Babar 17) Babar is into his work now. He skids back in his crease to play a gorgeous back-foot square drive for four off Wood.
"With Imam scoring his 151 the other day, there's been a lot of talk about players who scored centuries in England while wearing glasses," says Peter Salmon. "Well, one OBO post anyway. A player who is often overlooked by punters (and selectors) is Dirk Wellham, who of course scored 103 on debut in the last Ashes Test of 1981. Quite good. The web tells me he is one of only two players to score a ton on first class and Test debuts, but doesn't say who the other is. Anyone know?"
I've got Gundappa Viswanath in my head, but no idea whether that's correct.
5th over: Pakistan 22-0 (Fakhar 6, Babar 13) There's just enough movement, allied to the pace, to make this a tricky period for Pakistan. Archer swings one back to hit Babar at the top of the thigh, but then his first poor ball of the innings – short and wide – is slammed for four. Babar is sufficiently emboldened to uppercut the last ball of the over for a spectacular six. That was a great shot, because it wasn't a particularly poor delivery.
4th over: Pakistan 12-0 (Fakhar 6, Babar 3) Babar Azam gets off the mark with a loose pull over mid-on for a couple. He was beaten for pace but got enough on the ball to clear Tom Curran. Wood, bowling in a match for the first time since March, is already hitting 90mph with most deliveries.
"Just like to point out that no less than five of today's England players have two identical letters next to each other in their surnames e.g. Wood, Buttler," says Reggie Bull. "Pakistan have none. Clearly prophetic. Can I go now?"
Please don't go. I was hoping you'd have a few more gems for us.
Yes, Imam is leaving the field. Babar Azam is the new batsman.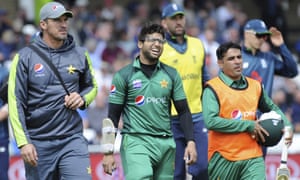 3.2 overs: Pakistan 9-0 (Imam 3, Fakhar 6) Imam misses an attempted pull off Wood, staggers towards square leg and then falls over. He's wriggling around, clearly in a lot pain, and needs treatment. I think it hit him on the elbow, and I suspect he'll need to retire hurt.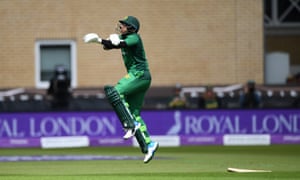 3rd over: Pakistan 9-0 (Imam 3, Fakhar 6) Archer's control of line and length are so impressive, and he ends another superb over by snaking a lifter past Fakhar's outside edge. Archer has figures of 2-0-3-0. This chap is laughably good. I think you can get 200-1 on him being Sports Personality of the Year, which is pretty tempting.
"I can't find the quote, but I'm sure one of the mouthy Australian captains (I'm guessing Waugh?) said something along the lines of, 'If you score 300 runs a day, you will win Test matches'," says Matt Dony. "Looking at the way ODI's have gone, and especially England's hilarious chasing-down of totals, what would be the figure to pretty much guarantee you win a 50-over match? What do Pakistan need to score? Is there a figure? Is there a number of runs that would make them overwhelming favourites?"
On this ground, to be overwhelming favourites, I'd say 500. Yup.
2nd over: Pakistan 8-0 (Imam 2, Fakhar 6) Mark Wood shares the new ball. Two 90mph bowlers in an England team! I haven't felt so spoilt since I ate all the Ferrero Rocher. Wood's fourth ball is far too quick for Fakhar Zaman, who gets off the mark with a top-edged pull over the keeper's head for six!
In an unlikely coincidence, Fakhar also got off the mark by top-edging a pull for six off Wood's fourth ball of the innings in the Champions Trophy semi-final at Cardiff in 2017.
1st over: Pakistan 2-0 (Imam 2, Fakhar 0) Jofra Archer takes precisely one ball to get everyone excited, jagging a beautiful delivery past Imam-ul-Haq's outside edge. There are just two runs from a very good first over. David Gower once said "it's hard work making batting look effortless". If the same is true of bowling, then Archer is working like a Trojan.
"How often have both sides had a wicketkeeper-captain?" asks Andrew Watson.
It's pretty rare but not unprecedented – it happened, for eg, in the 2011 World Cup final.
A quick pre-match plug If you live near Southampton, and/or are going to the England/West Indies World Cup match at the Ageas Bowl, this might be of interest.
"Greetings Rob," writes our own Ali Martin. "Just arrived at the ground after my train got within minutes of Nottingham before signal failure saw us crawling back towards Derby. Thankfully after some persuasion the guard let myself and a fair number of supporters off at Long Eaton, where I booked a taxi and, while waiting, bumped into the former Australia selector (and close chum of Vic Marks) John Inverarity.
"Naturally I offered him a lift and, following our chat en route, I now have enough to compile a dossier on how England can regain the Ashes this summer. Much of it revolves around Jofra Archer, of whom he is a huge admirer. Anyway, hope everyone enjoys today's game. Could be a few runs scored today given the pitch is spitting distance from the (already short) boundary stage left of the pavilion…"
Did he have any thoughts on who the flip bats in the top three?
This is a very good piece from Raf Nicholson on the complete lack of female coaches in an otherwise inclusive sport.
In other news, the thoroughly brilliant Tanya Aldred is hosting our County Championship blog.
"Afternoon Rob," says Pete Salmon. "Given that the main interest in this game is whether England can score 500, might I suggest that if they bat first they run the score backwards from 501, darts style? Would love to see Jos Butter trying to score double top from the last couple of overs to check out."
Talking of which.
Mark Wood, Jofra Archer and James Vince return to the England side, with Jonny Bairstow rested. Jos Buttler is captain in the absence of the suspended Eoin Morgan.
The old firm of Mohammad Hafeez and Shoaib Malik come in for Pakistan, as does the exciting teenager Mohammad Hasnain.
England Roy, Vince, Root, Stokes, Buttler (c/wk), Moeen, Denly, Rashid, Curran, Archer, Wood.
Pakistan Fakhar, Imam, Babar, Hafeez, Sarfaraz (c/wk), Malik, Asif, Imad, Hasan, Junaid, Hasnain.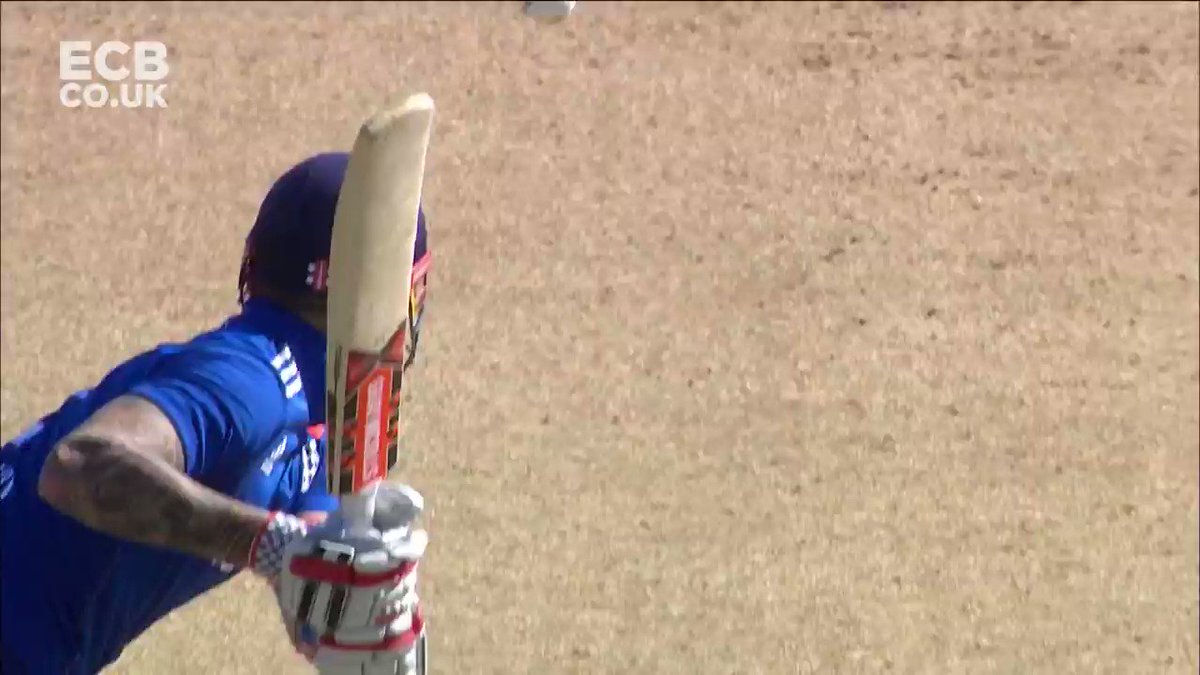 Hello and welcome to the penultimate episode of the Great British Bowl Off. A pace bowler will be sent home after the final two ODIs against Pakistan, and England are little the wiser as to who it will be.
Only three of Tom Curran, Liam Plunkett, David Willey and Mark Wood (alphabetical order; there are no clues here) can make the World Cup squad. At some point next week, one of them will feel their phone vibrate. They'll pull it out of their formidably tight jeans, look at the screen, see the words 'Eoin Morgan calling' and feel their heart sink.
My suspicion is that Curran will just miss out, but I've changed my mind umpteen times already this summer. Wood is a shoo-in if fit, but that has been a supersized 'if' for much of his career. He will bowl for the first time this summer today, and if he gets through the next two games unscathed you'd think he'll be in the final XV.
The other bowlers – Curran, Plunkett and Willey – will be desperate to play today, as it is their penultimate chance to offer a tantalising hint of a newfound irreplaceability. But this might not be the worst game to miss.
The England quicks might be able to bowl themselves into the World Cup squad; they could also be hit out of it. In one-day cricket, Trent Bridge is probably the highest scoring ground in the world, where scores of 400 have become almost the norm. There's also a ludicrous short boundary on one side today.
Godspeed, lads.
Related