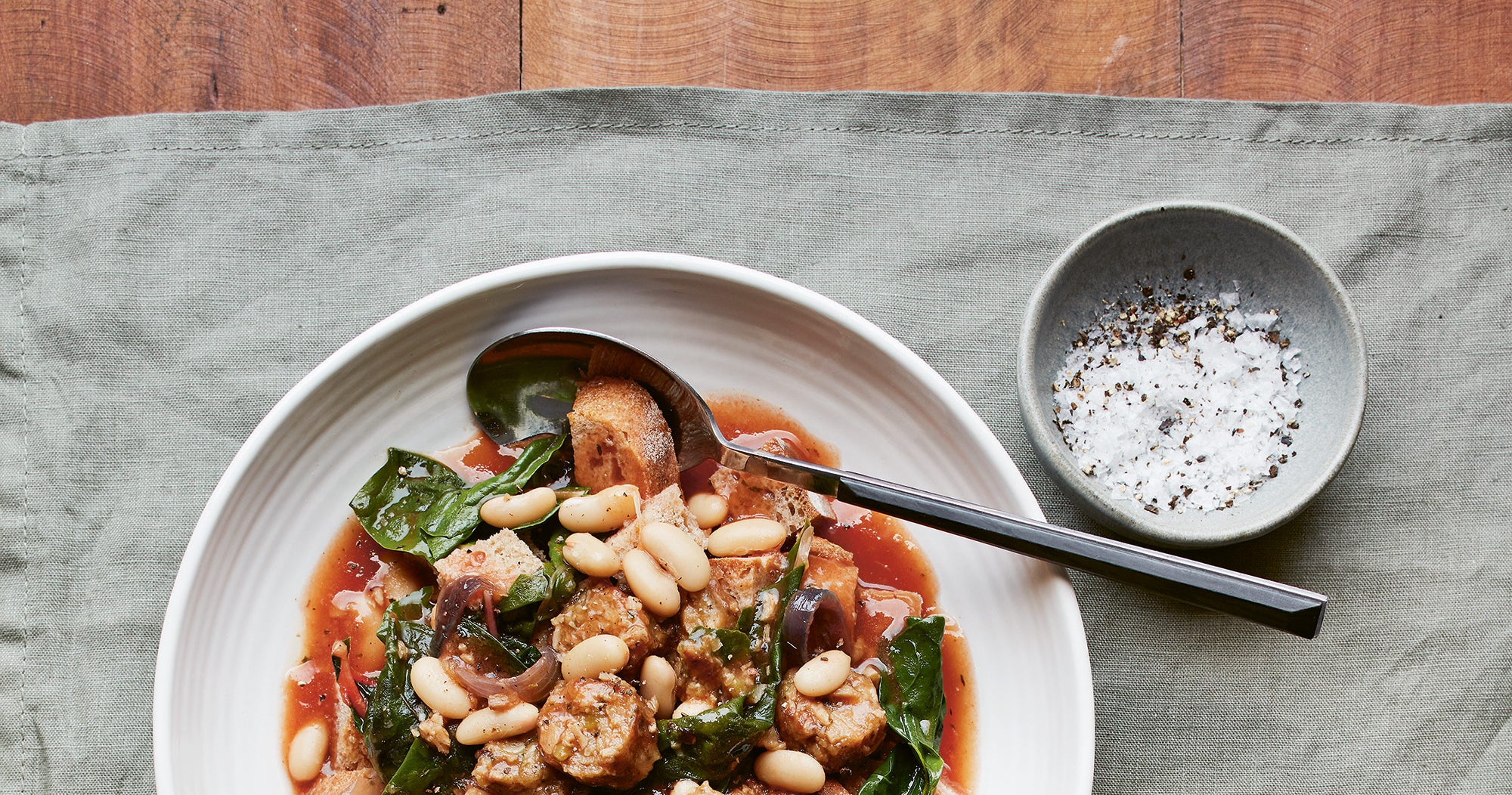 Sausage and White Bean Stew
Serves 2-4
Ingredients
Generous glug of olive oil
10–15 big chard leaves
400 g packet vegan Italian sausages (or any good-quality, yum vegan sausages you can find)
1 red onion, cut into half-moons
3 garlic cloves, finely chopped
2 tbsp tomato purée
500 ml vegan 'chicken' stock
400 g tin cannellini beans, drained and rinsed
Dried chilli flakes, to taste
Salt and freshly ground black pepper
2–3 slices day-old bread, diced, to serve
Instructions
1. Heat the oil in a large frying pan over a medium-high heat. While you are waiting for the oil to heat up, remove the woody stems from the chard and cut the chard leaves into bite-size pieces. Put the leaves into a large bowl, cover with water and allow to sit. Before cooking it, drain off the water and give the leaves a shake but don't dry them completely.
2. When the oil is warm, add the sausages to the pan and fry, turning them often, for 5–10 minutes until brown and crispy all over. When the sausages are cooked, transfer to a paper towel.
3. Add the onion to the pan, with a little extra oil if necessary. Cook for a good 5–10 minutes, stirring now and again, until they start to turn golden, then add the garlic and cook for another minute. Add as much chard as you can fit into the pan and cook, tossing and stirring, until it begins to wilt, then make room for the rest of the chard and add it to the pan (if you couldn't get it all in in one go).
4. Dissolve the tomato purée in the stock then pour the stock into the pan along with the beans.
5. Slice the sausages – which should now be cool enough to touch – into 1 cm rounds, add them to the stew and cook for another couple of minutes until the greens have completely wilted. Remove from the heat and add chill flakes, salt and pepper, to taste.
6. Place a handful of diced bread in the bottom of each bowl, ladle the stew over top, making sure to get some of the broth so that it pools in the bottom of the bowl and can be soaked up by the bread.
7. Leftovers will keep well in the refrigerator for up to 2–3 days.