Just grabbing some lunch, back in a jiffy.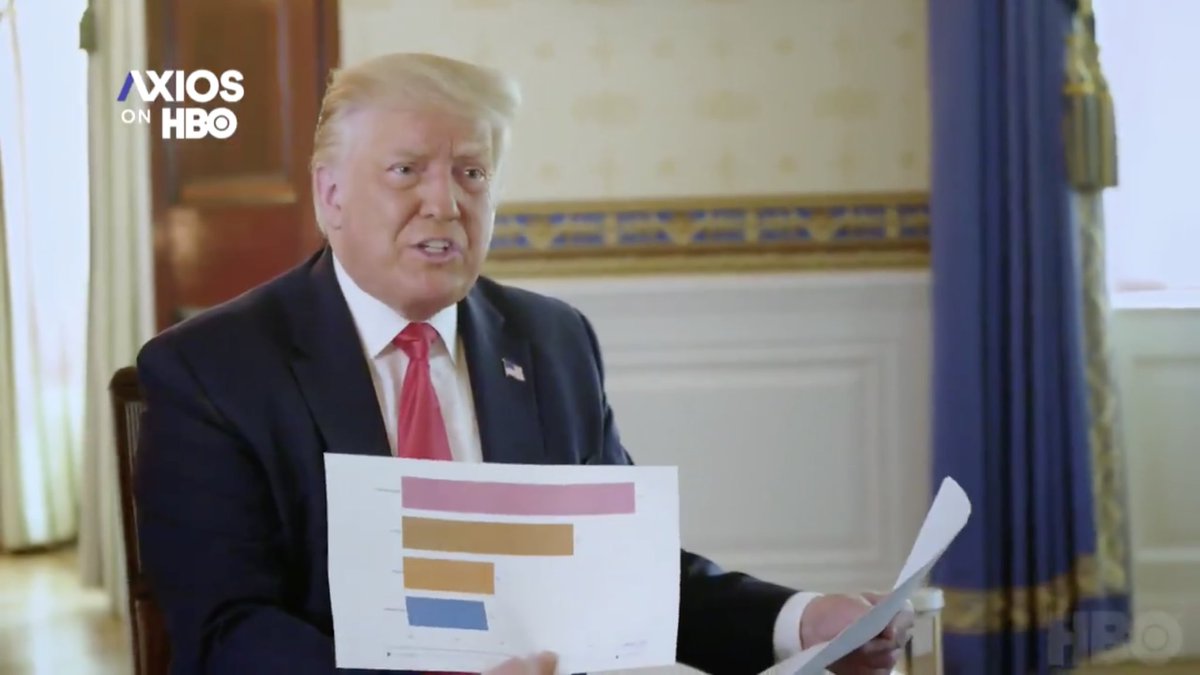 CENTRAL GROUP
Edgbaston: Warwickshire v Northants NORTHANTS 142 all Out (Stone 4-39) and 415-6(B Curran 58, Thurston 96, Rossington 104 not out; Bresnan 3-37); WARWICKSHIRE 369-8 (Yates 88, Bresnan 105; Buck 3-64)
County Ground: Gloucestershire v Worcestershire GLOUCESTERSHIRE 267 (Dent 92; Morris 4-52) and 206-5 (Hankins 68 not out); WORCS 428-5 (Mitchell 80, Libby 77, D'Oliveira 91 not out).
Taunton: Somerset v Glamorgan SOMERSET 296 all out (Davies 81 not out; R Smith 3-41) and 290-8dec (Abell 119); GLAMORGAN 131 (C Overton 5-38) and 166 (JOverton 5-48). Somerset won by 289 runs.
NORTH GROUP
Chester-le-Street Durham v Yorkshire: DURHAM 103 (Coad 4-23, Thompson 3-16) and 266 (Lees 106; Fisher 4-54); YORKSHIRE 199 (Raine 3-53, Rushworth 3-69, P Coughlin 3-46) and 103-3(Rushworth 3-38). No play today -rain. Yorkshire need 68 to win.
New Road: Lancashire v Leicestershire. LANCASHIRE 322 (Vilas 90; Klein 3-81) and 156-5; LEICS 409-8dec (Slater 172, Ackermann 94; Hartley 3-117).
Trent Bridge: Derbyshire v Nottinghamshire: NOTTS 324 (Hameed 68, Patel 63; Cohen 3-47) and 279 (Hameed 52, Patel 80; Conners 3-63, Aitchison 3-55); DERBYS 239 (du Plooy 130; Ball 3-71, Evison 3-38) and 174-3 (Godleman 86). Derbyshire need 191 runs to win.
SOUTH GROUP
The Oval: Surrey v Middlesex MIDDLESEX 347-6dec (Gubbins 192, Simpson 53; Clarke 3-48) and 248-6dec (Gubbins 60; Moriarty 5-64); SURREY 282 (Borthwick 92, J Smith 80; Murtagh 5-47) and 20-3.
Chelmsford: Essex v Kent KENT 387 all out (Robinson 78; Kuhn 140; Porter 4-107) and 112 (Harmer 4-35); ESSEX 298 (Browne 61; Ten Doeschate 78; O'Riordan 3-71, MILNES 4-46) and 73-4 (Stewart 3-24). Essex need 129 to win.
Hove: Sussex v Hampshire SUSSEX 176 all out (Salt 68, Garton 54 not out; Dale 3-20, Crane 3-23) and 221 (Salt 80; Organ 3-41, Crane 3-46); HANTS 153 (Robinson 3-36, Claydon 3-31) and 150 (Robinson 5-29). Sussex won by 92 runs.
Essex having a moment at Chelmsford. 64-4 with debutant Feroze Khushi joining Cook at the crease. Ooof! And another wicket at The Oval, Borthwick tickles another debutant, Thilan Walallawita, into the gloves of Simpson. Surrey 19/2.
"It's of course a delight to have the live blog but may I suggest just one small tweak that could improve it even further? types Geoff Wignall. "It would be to provide a real time OBO of the Lancs games and close of session scores for the rest. A tiny adjustment, but one that would make everything perfect."
Not a chance – can you imagine the accusations of jinxing? Lunch scores to follow.
'Umble little Northants reminding Warwickshire why they won promotion to Division One of Champo last season. An unbeaten 104 for captain Adam Rossington, an unbeaten 50 for Luke Procter. The lead now 182 with four wickets remaining.
And Stoneman goes in Murtagh's fifth over, lbw, bat upside down in his paw. Surrey 11/1.
Slow from Dane Vilas and Steven Croft at New Road, but a valuable partnership of 48 for the fifth wicket. A patchwork of a lead over Leicester of 62.
Godleman lbw for 86 but still the flood-gates haven't opened at Trent Bridge. Derby 165 for 2; 200 to win. I would say that they can't possibly do it, but then I remember that Notts haven't won a first-class game since June 2018…
Somerset lost their last four wickets for 13. Jamie Overton 5-48.
Taunton: Somerset v Glamorgan SOMERSET 296 all out (Davies 81 not out; R Smith 3-41) and 290-8dec (Abell 119); GLAMORGAN 131 (C Overton 5-38) and 166 (JOverton 5-48).
Slow going at Chelmsford, but Essex are so far resisting Darren Stevens' wiles. Alastair Cook and Nick Browne plodding on after the early wicket of Jamie Porter (last night's nightwatchman). 42-1 need another 160.
A great read from Rob Smyth:
Middlesex have declared at 248-6, giving Surrey two and a bit sessions to score 313 or survive. Five of the six wickets to fall went to young left-arm spinner Daniel Moriarty, who was born in Reigate but represented South Africa at U19 level in one Test and one ODI in 2016. Fifties for Andersson and Gubbins.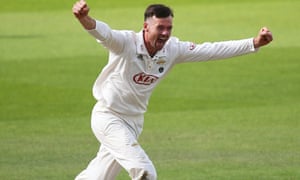 Somerset have grabbed another, it is an Overton, of course. Jamie celebrates his autumn move to Surrey with his fourth wicket of the innings. Glamorgan contemplate lunch, but it looks a long, long way away, 157 for 7, or (ahem) 299 to win.
They're back out at Trent Bridge, and Gloucestershire are making a good fist of their second innings at Bristol – George Hankins still there 54 not out. However they lead Worcestershire by just 14 and need to bat most of the day.

"Would it be terribly cheeky," taps Paul Billington, "to suggest to Charles Seldrick that Somerset get at least one mention in Vic Marks' excellent dispatches, almost every week? As I type, I am attempting to recreate the "winking emoji" face to show that this is definitely meant in jest."
Vic wears that badge with pride.
"OK, so feeling a bit left out," sobs Charles Seldrick, "a 4 for Gubbins at 11:07 gets a mention but wicket fell at Taunton at 11:18, no mention…. are Somerset not exciting enough to be worth a mention…"
I know how this goes, soon you'll be complaining that Middlesex got the biggest bowl of ice-cream, and got to stay up late.
Will this do as a sop?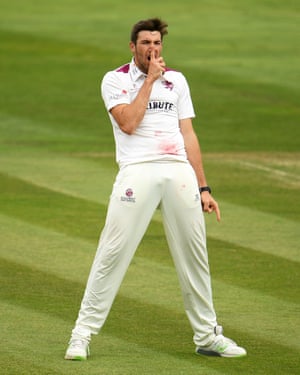 It is now raining at Trent Bridge with Derbyshire adding another seven to the overnight score. Jamie Overton has grabbed a third wicket to reduce Glamorgan to 149-6. And here is cricket being cruel: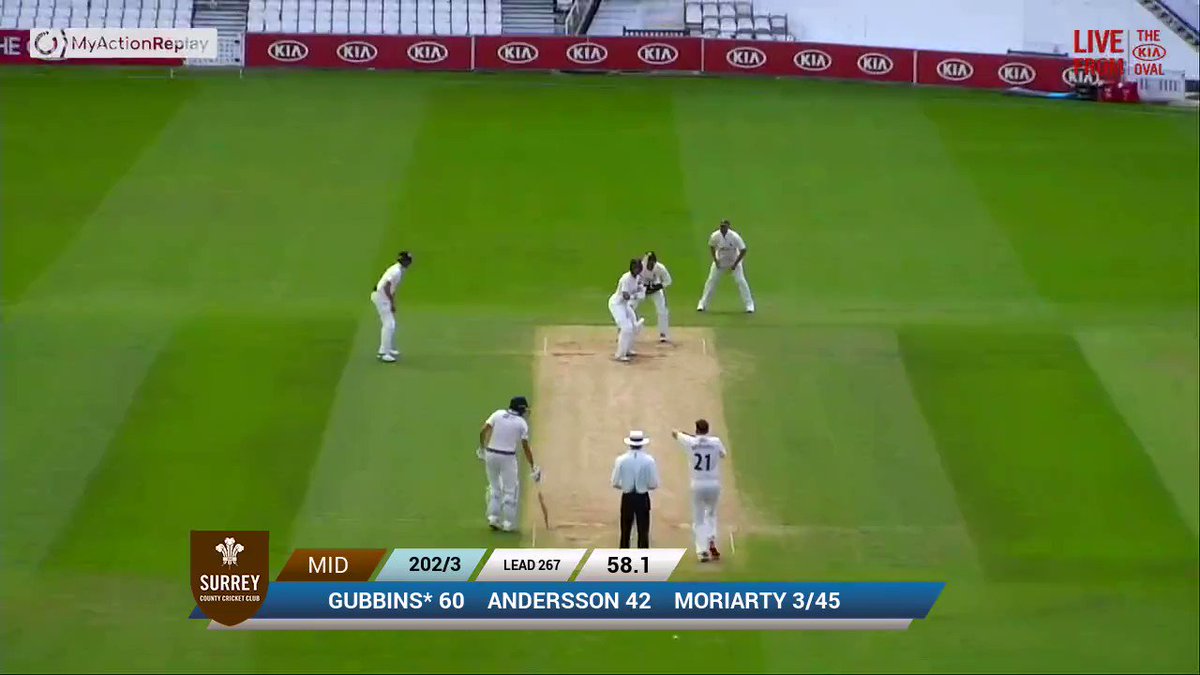 A fifth wicket for Dan Moriarty on debut! Gubbins and Anderson – Middlesex lead 278. Wickets too, at New Road, with Lancashire looking vulnerable against the Championship wooden spoonists. Currently have a lead of just 22 with 6 wickets in hand.
Not county cricket but…Pakistan . I was chatting to a journalist who has watched them during their warm-up games. Says their bowling is a match for England's, especially young Naseem Shah, but their batting is fragile. Their squad for the first Test starting tomorrow:
Azhar A (c), Babar A (vc), Abid A, Asad S, Fawad A, Imam, Kashif B, M Abbas, M Rizwan, Naseem S, Sarfaraz A, Shadab K, Shaheen A, Shan M, Sohail K and Yasir S.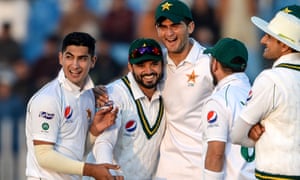 Gubbins finds the gap to send Amar Virdi's first ball for four, then cuts his third for four more, as Middlesex start at a trot.
Rainwatch: no play before lunch at Chester le Street, which will be taken at 12.30. All other matches in play.
At Chester-le-Street, it is wet: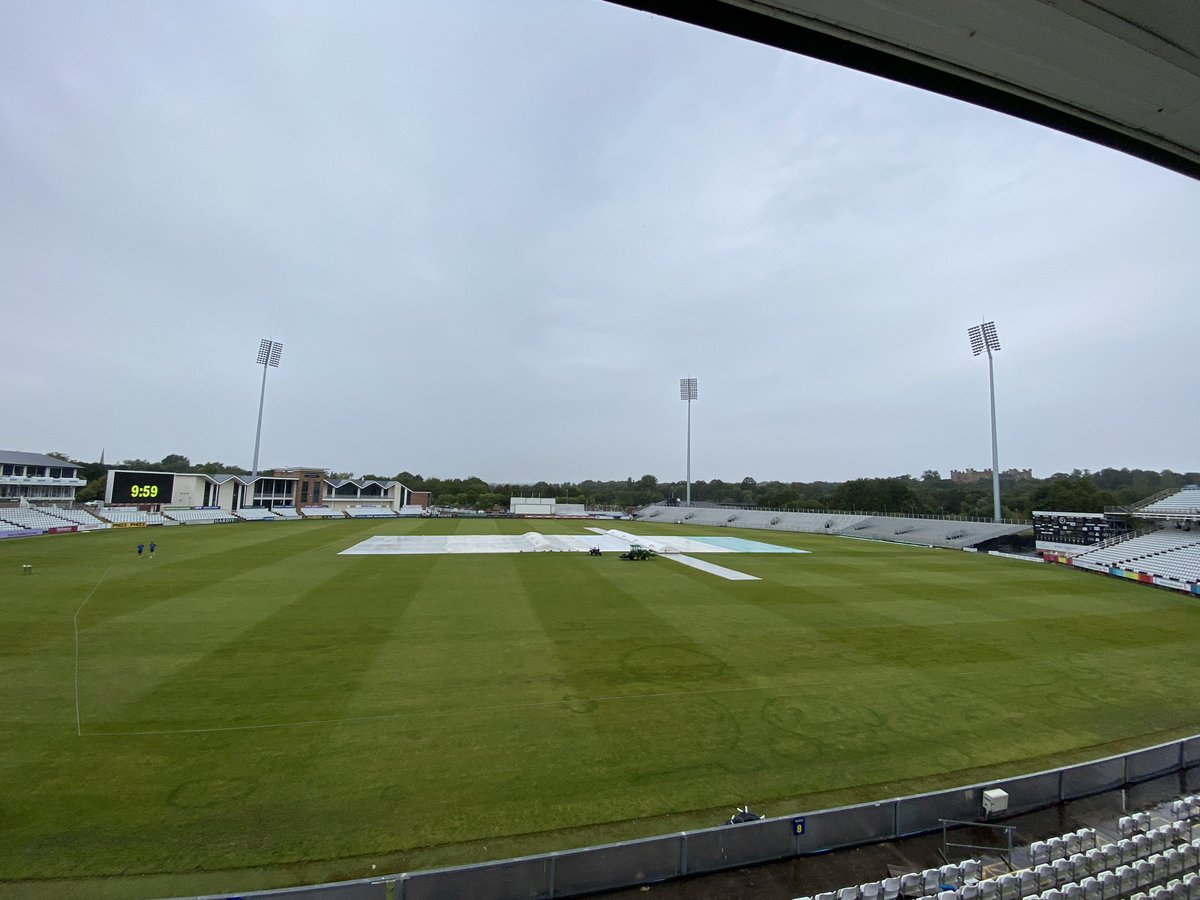 News from Australia:
Should you have a subscription, this looks like a great read from Scyld Berry on Somerset v Glamorgan. And this, for Yorkshire fans everywhere.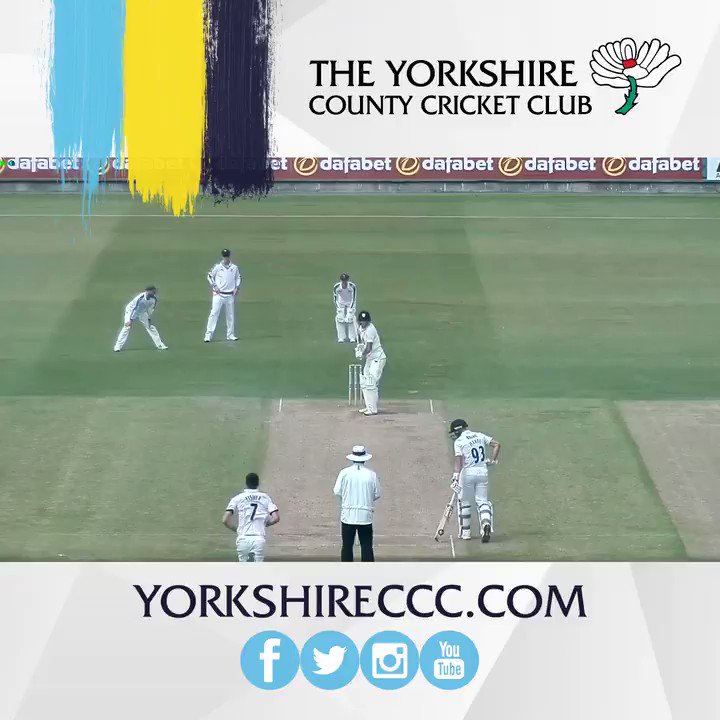 Good morning from a wet August Tuesday; the final day of the this round of the Bob Willis Trophy. We had one result yesterday, as Sussex blew away Hampshire. Glamorgan are in deep trouble at Taunton against Somerset, as are Durham as Yorkshire restart needing only 68 to win. Essex need 202 in a day, after Kent collapsed to Simon Harmer yesterday afternoon; Middlesex are in a good position at The Oval against a depleted Surrey; and Derbyshire, 126-1, have a chance of battling on a flat pitch at Trent Bridge. Lancashire and Gloucestershire need to bat better second time around and honours even-ish at Edgbaston.
Please do drop me a line with your thoughts, either at tanya.aldred.freelance@theguardian.com or @tjaldred; or comment below the line. The more the merrier!