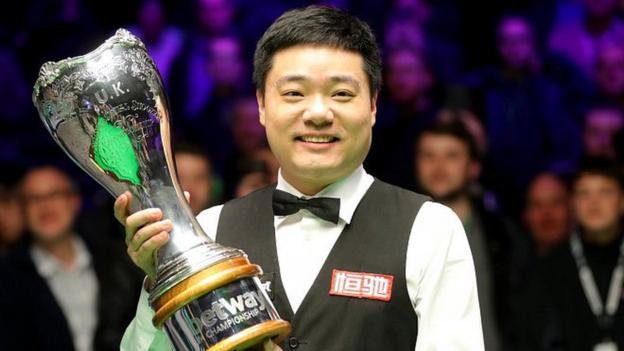 China's Ding Junhui won his third UK Championship by dispatching Scotland's Stephen Maguire 10-6 in an absorbing final in York.
Ding, 32, had not won a ranking event since 2017 and last lifted the trophy a decade ago – four years after his first triumph.
Back-to-back centuries secured a 5-3 first-session lead and he sealed victory from 8-6 with successive tons.
Maguire made three tons in four frames, but his poor start proved costly.
Ding becomes only the fifth player to win the UK title on three or more occasions.
He joins snooker greats Ronnie O'Sullivan (7), Steve Davis (6), Stephen Hendry (5) and John Higgins (3) on an elite list and collected a UK record £200,000 in prize money.
Missed opportunity for Maguire
Glasgow's Maguire, 38, won the title 15 years ago and has arguably underachieved in his career, winning just five ranking titles in his career, the last of them at the 2013 Welsh Open.
He has, though, been in decent form this season, winning the World Cup team event in June alongside Higgins and beating his countryman in the Six-red World Championship in September.
His fiery temperament has often let him down but it has been kept well in check this year, and he produced a sensational 6-0 thrashing of Northern Ireland's Mark Allen in the last four in York, saying afterwards he "can't remember ever playing like that".
At times in the tournament he was visibly struggling with the fractured foot he suffered in China in October and, against Ding, his high-scoring run came too late as Ding proved too good.
How the final unfolded
Ding, who beat defending champion Ronnie O'Sullivan in the last 16, snatched a 30-minute opening frame and fired in further breaks of 56, 105 and 128 for a 4-0 lead.
Maguire hit back after the mid-session interval by taking another frame that lasted over half an hour and counter-attacked with an important 67 break after Ding broke down on 49.
The Glaswegian took the next as well to trail by a single frame and had the chance to square the contest at 4-4 but missed a blue to the middle, allowing Ding to make 66 to lead by two frames.
The standard of snooker rose in the evening session. Ding opened with 83 and Maguire missed a red on 53 allowing his opponent to pinch the next for a 7-3 lead, but Maguire hit back by fluking a red and stroking in 103.
Ding made 67 to close in on victory, Maguire compiled another 103 and 124 to stay in the contest, but Ding's 131 clearance and 103 to win the match was the fifth century in the last six frames.
Sign up to My Sport to follow snooker news on the BBC app.