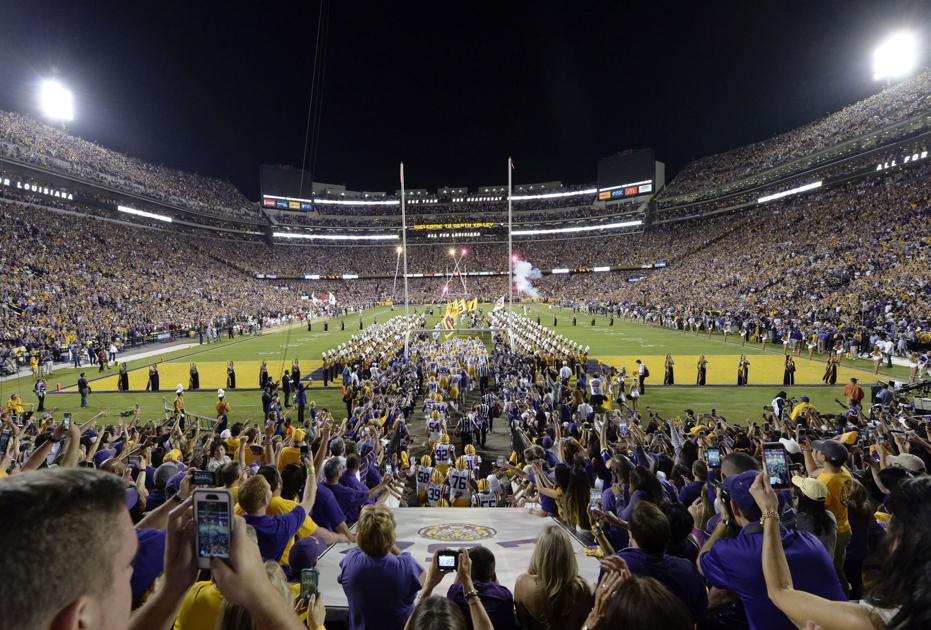 Welcome to 'Buzzing Brooks,' our weekly mailbag to answer your questions about LSU's upcoming football game.
If you want to submit a question, The Advocate's football beat reporter Brooks Kubena posts a message on Twitter on Tuesdays, or email him at BKubena@TheAdvocate.com.
This week, Kubena answers your questions for No. 5 LSU's top 10 showdown with No. 7 Florida at Tiger Stadium on Saturday at 7 p.m.
(Questions edited for clarity)
@HunterHamSr: What exactly can we expect from Florida's pass rush?
LSU coach Ed Orgeron said Monday that Florida "is by far the best pass rush we have seen."
The Gators' 26 sacks are tied for third in the nation. Seven players have recorded at least two sacks, and outside linebacker Jonathan Greenard ranks second in the Southeastern Conference with four sacks.
If you watched Florida's 24-20 win over Miami in Week 0, you'd have seen that the Gators hounded the Hurricanes with three sacks and three forced fumbles on the final drive of the game.
Not exactly encouraging stuff for LSU's offensive linemen, who were reminded by starting center Lloyd Cushenberry that 11 tackles for loss, five sacks and eight quarterback pressures cost LSU in its 27-19 loss at Florida last season.
Orgeron said Florida's Todd Grantham "is one of the best defensive coordinators in football," and the Gators defensive play-caller has a reputation for creative blitzes and confusing stunts on the defensive line.
Orgeron said Grantham has been blitzing less than in years past, and that's been because potential future first-round NFL draft picks Greenard and defensive end Jabari Zuniga have been able to create havoc without any schematic gimmicks.
Still, just because Florida hasn't shown much blitzing in its first six games of the season, that doesn't mean Grantham hasn't hidden something off film that he could use against LSU — although you'd wonder if he'd table anything in a championship-stakes game against Auburn last week.
Orgeron said the LSU coaching staff is still going back in Grantham's history at both Florida and Mississippi State to prepare for all his blitzes and line stunts.
The other interesting thing to bring up here was something LSU passing game coordinator Joe Brady said back in June on the program's Coaches Caravan stop in Metairie.
The 30-year-old coach claimed that statistics have proven that when a team is in five-man protections — meaning only the offensive linemen are blocking — that a team will give up fewer sacks.
You can read more about that here.
So far, LSU's statistics this season have backed Brady up: The Tigers have given up 13 sacks in five games, which is half the amount they gave up in the first five games last season.
@nawlins_saint: Considering the number of turnovers made by both teams in the Auburn-Florida game, how do you think LSU will use that information and prepare?
Yeah, that game was a tad sloppy — a bit of an homage to Florida's win over Miami. Auburn fans will certainly wonder what would have happened in that game if Christian Tutt hadn't muffed a punt within the team's red zone, giving Florida an easy touchdown in the first half.
That's a place to start in answering your question: LSU's special teams have made a significant turnaround in the last two seasons under Orgeron, and this year, true freshman Derek Stingley has given the Tigers security in the punt return game.
According to ESPN's SP+ rankings, LSU has the top ranked special teams in FBS.
Ball security from LSU's running backs has been far more concerning for the team in its past two games. Clyde Edwards-Helaire's fumble in the LSU end zone against Vanderbilt resulted in a defensive touchdown, and John Emery was stripped of the football while fighting for extra yardage against Utah State. Edwards-Helaire also had a fumble at the Utah State goal line, which was recovered by Thaddeus Moss and eventually resulted in an LSU touchdown.
Orgeron said Monday that he's "very concerned with that," and he instituted extra ball security drills at practice this week. Since the season began, the team has been getting in several lines, and the quarterbacks, running backs and receivers would run across the wide end of the field holding two balls while two defensive players tried to rip the balls out.
This week, they added something at the start of media viewing, where ball carriers ran through a gauntlet of pads while doing the same thing.
We'll see if it produces results.
But it wasn't fumbles that cost Auburn. It was the three interceptions thrown by true freshman Bo Nix.
Florida leads all FBS teams with 12 interceptions, and four players have multiple picks.
Cornerback C.J. Henderson is another potential first-round NFL pick, and LSU quarterback Joe Burrow will be facing his toughest test yet of the season.
And remember: Burrow hadn't thrown an interception all season last year until he threw two against Florida, including a pick-six that set the final score.
Part of the reason Burrow is a Heisman candidate this season is because he leads the nation with a 78.4 completion percentage, and ball security will be at a premium against Florida.
I'd say it'd be an accurate guess to say that LSU defensive coordinator Dave Aranda wishes the Tigers forced more turnovers of their own. LSU is tied for 73rd with seven total turnovers. And that's after they forced three turnovers against Utah State.
@marcadunn: Will Terrace Marshall actually be able to play after his recent surgery now that he's back at practice?
I'd say it's very doubtful that Marshall plays against Florida. Marshall participated in LSU's light practice on Monday. They don't wear any pads and they practice indoors. We didn't see him practice in the padded Tuesday and Wednesday practices. Although Orgeron hasn't given an official update on Marshall's status, that's usually the pattern of a player who hasn't yet fully recovered.
Compare it to Rashard Lawrence's recovery: Lawrence has practiced fully this week and Orgeron said he'd be playing.
I understand the optimism that comes with Marshall's Monday return, which in itself is pretty impressive. But there's still some physical steps he needs to take before making a full return. Ja'Marr Chase said Monday "I'm glad I'm seeing him run. When I see him cut, that's when I'll feel happy."
Orgeron has said he hopes to have Marshall back by the time LSU plays Alabama on Nov. 9. He also said Marshall could return sooner than people think.
Given Marshall's Monday return, I'd say that timeline is still reasonable.
@DJ1360: What time will ESPN GameDay allow people to start lining up for the pit Saturday morning?
That's actually a decision that's left up to the schools themselves, a GameDay official told me.
After asking an LSU official, the resounding answer from within their office is "as early as possible."
The GameDay broadcast is going to be set up at The Quad on LSU's campus, the same place it was when LSU played Alabama last year. The show runs from 8 a.m. to 11 a.m.
There may even be some people lining up there the night before.
This game's already sold out, friend, so you know that means more traffic. As mothers generally say: stay safe, make good decisions.
And come up with a good sign for me.
@SmartestMoran: Are you at all worried about the Rays potentially sending this series back to Houston?
This one was submitted by an LSU beat colleague: Tiger Rag football and baseball beat writer James Moran.
Didn't think I'd include this on here, did ya James?
As some of you might know, I was born and raised in Houston, so there's a certain vested interest in how the Astros do in their ALDS series with the Tampa Bay Rays.
This question was asked before Game 4. I said my confidence was at about 80 percent, which I figured was about the same strength as the right arm of Astros starting pitcher Justin Verlander, who was pitching on short rest.
Turns out, that percentage was probably a little high.
Verlander didn't last beyond the fourth inning, and after a 4-1 Tampa win, the series indeed got sent back to Houston for a deciding Game 5 tonight at 6:07 p.m.
Astros starter Gerritt Cole is playing on 100 percent rest. So James, what the heck, let's call it 100 percent confidence for tonight, too.