58th over: England 150–2 (Burns 80, Root 54) Southee bowls wide of the crease, tries to tempt Burns, who resists. Southee, Southee, catchee monkee.
57th over: England 149–2 (Burns 80, Root 53) Three clomped off Santner's over, who hasn't threatened that much today. Who is going to be Williamson's secret weapon? I imagine he's missing de Grandhomme.
56th over: England 147–2 (Burns 80, Root 51) Southee has a very even approach to the wicket, regular steps, cocked wrists. He tries a wide one without success, he tries a slower ball, Burns ignores it.
Hey Tanya, writes Aaron.
Hi!
I moved out to NZ from the UK a couple my first ever cricket Test here at Seddon Park, having been drawn back in to a sport I loved when I was nine by the summer's drama in the World Cup and Ashes.
Lovely laid back atmosphere here! Your brother's elaborate pie has us intrigued – where did he find that?! We've only been able to find the bao and beer so far!
I've just re-read my words and I put my probably in the wrong place – it should have read "probably eating an elaborate pie." Though he might be. He won't be reading this (though I'll text him), but someone else at the ground might be. Can you help Aaron anyone?
55th over: England 144–2 (Burns 78, Root 50) Burns sweeps Santner, the New Zealand fielders make appreciative noises. It was kind of risky, but it worked.
Donald Barrett writes; I am jealous.
I saw Shane Warne the musical in Sydney. I thoroughly enjoyed it. We actually saw it one day after flying back from LA where we had just attended Wagner's Ring Cycle. Never say I don't have eclectic tastes.
54th over: England 143–2 (Burns 77, Root 50) Southee has the first over after lunch. The wind is coming over his right shoulder (thank you commentary) and he finds some swing. Root stretches to meet it, somewhat awkwardly.
An aside, Rory Burn's moustache is visible through the grill from the other end of the pitch. I wonder if it might distract the bowler if he suddenly started to fixate on it.
The camera pans down the pitch, it looks a cracker. Root and Burns walk back out.
A lovely email from Will Webster, who needs some help from OBO-ers.
When not watching cricket I am an artist of sorts and wondered if you or your readers might have some insight on a fairly odd cricket related photograph.A while ago the mystery of google randomly presented me with a video to watch about NZ legend Richard Hadlee which included a clip where the great man scored a 100 against West Indies in 1979 ( I think). Upon reaching three figures the celebrating Hadlee was confronted by a small boy who had run into the middle with his camera. The batsman duly posed a bit awkwardly, the child knelt, took the picture and scampered off. I wonder if anyone has seen the photograph the boy took? Google doesn't help any further, but maybe you have come across this, or similar images – it looks like nobody thought it unusual back in the day. I'm pretty sure being so close to the action is not a viewpoint many people, except players, have had, and so I'd be really curious to see what that snap looked like.Including a screen grab from the vid here. Keep up the good work. Winter wouldn't be the same without disturbed sleep patterns from checking the midnight cricket.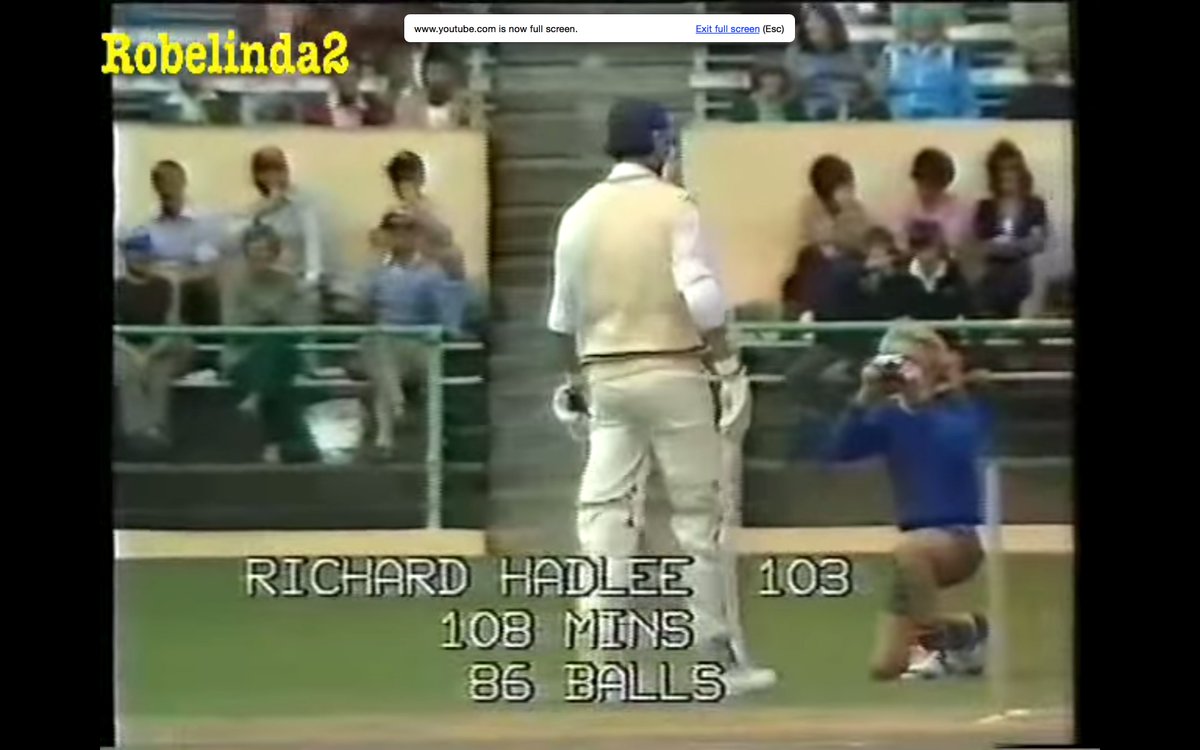 My brother texts from Hamilton to say Fat Freddy's Drop are on the PA and everyone is mooching about the outfield in a laid-back surfer-dude way. The sun's probably out and he's got a flat white and some kind of elaborate pie too.
What can the northern hemisphere fight back with? A joke, that's what. Cue Simon Lacey
Not bad, Brian Withington, but you have to go a long way to beat:
Two classics professors find themselves in a bar in downtown Mexico City. "What would you care to drink, old chap?" says one. "I've no idea, old boy, you decide," says the other. "Well, would you decline a tequila?" "Oh certainly, old thing – tequila, tequila, tequilam, tequilae, tequilae, tequila…"

53rd over: England 142–2 (Burns 76, Root 50) The umpire plucks off the bails and that is lunch. England's session: no wickets, just steady, watchful accumulation, working through initial crankiness to find some moments of joy. I'm off to make a quick drink but I'll leave you with Damian Clarke's lunchtime joke.
On the subject of favourite jokes, may I tell you mine?
How does an elephant ask for a bun? Can I have a bun, please?
I realise that this is 90% a visual joke, but does that really matter?
52nd over: England 142–2 (Burns 76, Root 50) And with a tap towards square leg off Mitchell, that's Joe Root's fifty. He allows himself a bat wobble, but doesn't take his helmet off. Still work to do. Well played captain, under heavy pressure.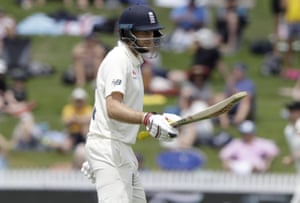 51st over: England 140–2 (Burns 76, Root 48) A Santner maiden. Lunch approaches.
50th over: England 140–2 (Burns 76, Root 48) Mitchell back into the attack and sends down a zinger on a good length, Root seems to turn it off his hip where it is caught behind the sticks. The umpire gives it out but Root REVIEWS immediately – a tell-tale sign. Sure enough, the third umpire's slow-mo proves there has been no contact between bat and pad
JAmes Debens writes: "What are "Andy Flash shots"? Are they like "Eddie Hemmings shuffles"? Or "Chris broad strokes"? Halp!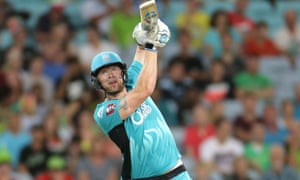 49th over: England 139–2 (Burns 76, Root 47) Frustration for Santner, it is a tidy over until he drifts onto the leg side with his last ball and Burns gets down on one knee and sweeps him down for four, like a man flicking a stray lump of coal back in the fire.
48th over: England 134–2 (Burns 72, Root 46) Burns and Root get the hee-bee-jeebies off their chest with a couple of quick singles off Henry, then Burns goes for a more expansive drive. The runs tick over.
Morning Tanya, writes Avitaj Mitra. Morning!
Joe Root is indeed looking good (and whisper it, but say it nonetheless).. he's probably due a really big score.
Also, general observation. There's something very pleasant about watching a game in NZ at the end of the day. Low-key and laid-back.
I agree. It's just the most idyllic way to watch Test cricket, Lining up barefoot for your coffee, letting the kids run semi-wild on the grass…
47th over: England 128–2 (Burns 67, Root 45) New Zealand playing the waiting game here. Santner turns out another maiden. Root plays a rather impatient swing to his last ball. Can England keep their nerve?
Incidentally, why is Brian Blessed doing betting ads? (I once saw him as Old Deuteronomy in Cats and sat on his knee while getting his autograph. Innocent times)
45th over: England 126–2 (Burns 66, Root 44) A typically careful Santner over, and things have slowed down a bit here. Perhaps the batsmen feel lunch peering over their shoulders.
At last another musicals fan on the OBO. Thank you Timothy Muller! I too enjoyed Dear Evan Hansen very much (and welled up a few times). I'm not sure about the David Warner story, but I once had a conversation with Sir Tim Rice about writing a Basil D'Oliveira musical together (I'm an occasional composer). Sadly, he was too busy on Terms of Endearment at the time, and then was so shocked by the justifiably horrendous reception that got, that he basically retired. If anyone else feels like writing the book and the lyrics, (probably based on Peter Oborne's biography), let me know.
Tim, shall we talk?
44th over: England 122–2 (Burns 64, Root 42) What a shot from Burns! He watches Henry run in with school boy purpose, and drives him with immaculate timing through mid-on for four. I see these two both making hundreds today.
43rd over: England 118–2 (Burns 60, Root 42) Oooh and ahhhs as Santner wheels in, long arm plucking the sun from the sky. Root plays out the maiden.
And I'm going to let Brian Withington tells us his joke, even though he first sent it in two days ago in relation to flip-flops and onomatopoeia.
Two friends at a fun fair get separated, but one spots the other down below from her vantage point at the top of the helter-skelter. Trying to attract attention she resorts to calling out 'I'm on a mat up here'.
42nd over: England 118–2 (Burns 60, Root 42) Wagner does get his rest and Williamson flicks the ball to Matt Henry. He's on the money straight away, a good length, enough to put Root and Burns off andy flash shots.
41st over: England 117–2 (Burns 59, Root 40) Burns and Root watch Santner carefully. I think they sense danger. Just a couple of singles, and the morning moves on still England haven't lost a wicket.
40th over: England 115–2 (Burns 59, Root 40) Wagner storms in, his eighth over on the trot. Energy levels still high, but only one short ball. I think that's a sign it's time for a towel down.
Stephen Owens writes from Motueka "Hi Tanya, A NZer here. I see the 3rd day preamble begins "Hello fellow time-zones-surfers, and welcome to day three of the second and final Test against New Zealand." Given that the Guardian is trying to 'reach out' [bloody horrible USA phrase that has become mainstream for other media] and enlarge coverage of NZ news, including, presumably, sports, maybe a more inclusive intro could have been used, say '…the final test between England and New Zealand." I'm reaching out here Tanya. Come Brexit England needs all the friends it can get, including its formerly loyal dominions before Edward Heath shafted the Commonwealth by signing up for the EU. Just saying…
Stephen, you may have pre-empted an email from the sports editor pointing out just that. Let's hope he's asleep right now. Apologies, you're quite right. The question is, should I go back and change it now for any late-comers or do I have to leave my reaching out to next time? Stick with us New Zealanders, the EU has given up.
39th over: England 113–2 (Burns 58, Root 39) Aha! Mitchell Santner gets a go – can he prove England wrong for not picking a spinner? He encourages one to turn out of the rough and discomfort Rory Burns, hitting him high on the pad. A maiden.
38th over: England 113–2 (Burns 58, Root 39) Root content to play second fiddle as Wagner continues to fire them in.
37th over: England 111–2 (Burns 58, Root 38) Burns lives dangerously off Daryl Mitchell. He pushes forwards and the ball zings dangerously between gullies. He looks anxiously over his shoulder. Then he flicks one, most charmingly, over mid-wicket for another boundary. New Zealand leaking more runs than they'd like here.
Thinking about your words Ian Forth. I know the Pakistan attack isn't the best but he has beaten Bradman! Talking of which, if we can time travel, how about to Adelaide 1933? The drama!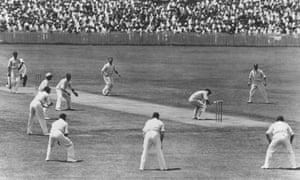 36th over: England 102–2 (Burns 50, Root 37) Burns turns Wagner off his legs for a single, and that's his fifty! Eight fours, 158 minutes. and an impressive test of nerve after being dropped twice yesterday evening and tested by tight New Zealand bowling this morning. He's both awkward and solid. And that's drinks.
Ian Forth is not impressed by my suggestion of a new musical: "I don't want to start a heated debate all over again, but I'm not sure David Warner scoring a heap of runs against an undercooked attack at home constitutes a narrative arc Spielberg will be considering. (Australia have, after all, won 12 out of 12 against Pakistan at home this century). He needs to walk from Cape York to Cape Town for charity or at least rescue a cat from a tree."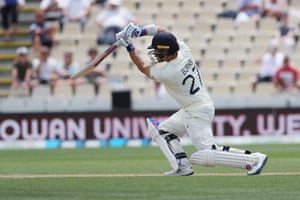 35th over: England 99-2 (Burns 48, Root 36) Michell, red soles trailing behind him, runs in. A slower ball, Burns is foxed and top-edges a pull… just short of square leg.
Now that is a wonderful suggestion.
34th over: England 95-2 (Burns 46, Root 33) Wagner charges in, steam emerging from ears and nose, pistons moving legs and arm. Just one from over.
"A very good morning Tanya," writes Brian Withington.
Morning Brian!
Pleased to read of Atherton's reference to Joe Root looking good – would love to see him follow David Warner and go very big indeed today (and tomorrow). Meanwhile I'm patiently waiting for any excuse to resubmit my lonely linguistic joke about onomatopoeia …
Oh go on Brian – send it to me again.
33rd over: England 94-2 (Burns 46, Root 33) Mitchell again. I love watching him bowl, you notice a different idiosyncrasy with every over – this time it is his spread fingers in his non-ball gripping hand. Root takes a good stride forward, sends his head over his knee, and plays an immaculate defensive shot. A maiden.
32nd over: England 94-2 (Burns 46, Root 33) A maiden over for Wagner. Not without danger for Burns who is deceived by an off-cutter. Patience. Not long till drinks.
31st over: England 94-2 (Burns 46, Root 33) Williamson turns to Daryl Mitchell, who does a funny quick-step at the top of his run, before steaming in with his high-knee-ed approach. Root watches carefully for five balls then flicks him for an easy four.
I am pleased to say that in the next three months I will be watching an England Test match below Table Mountain at Newlands during the New Year Test, and then below Galle Fort in Sri Lanka in March, writes Neil Waterfield. I can think of two no finer grounds in the world, but will be happy to find others.
You lucky thing! Beautiful grounds in amazing surroundings.
30th over: England 89-2 (Burns 46, Root 29) Burns does sticks his bum out at the crease, he must have great quads. But enough of that – pow! – that's quite a shot, with straight arms he swats Wagner to the boundary. Next one is short again, and Burns swivels pulls again behind square for another four. England rock'in on.
29th over: England 80-2 (Burns 38, Root 28) Burns is looking good here. He's over the nerves and hitting crisply. He dispatches Southee with a whizz-crack to the boundary with a sharp pull.
Peter Salmon has his mind on David Warner.
Do you think Stuart Broad would have been looking at Warner's innings yesterday and thinking, well, that would have taken me about four balls?
28th over: England 76-2 (Burns 34, Root 28) Root eyes up a short one from Wagner, swivels and pulls him for four. Lovely. And again, though with not quite as much power and just gets the single. Then a fine on-drive from Burns which is cut off just before the rope. Next ball he's crunched in the chest by a short one. This Wagner, he makes thing happen. And that's the fifty partnership between Root and Burns.
Chris Bull has listed his top grounds on the fantasy trip: Antigua – the recreation ground. Cape town. Dharamsala. Adelaide. Galle. Wellington. If its ever safe enough again Srinigar would be in there.
27th over: England 68-2 (Burns 31, Root 23) Southee again, no real threat, but tight. Burns gets four leg byes past a desperate Watling.
26th over: England 64-2 (Burns 31, Root 23) Aha! New Zealand turn to Wagner to see if he can extract some zing from this pitch. He shoves one in short with every effort of his visible being, the polar opposite of Jofra Archer – whose effort is seemingly effortless – and Burns ducks and it pings off his shoulder for a single. Root ducks the next
In answer to your question William, if I could magic myself to these places so that I didn't have to worry about my carbon footprint: I'd go to Eden Gardens and Barbados (neither of which I've been to), then Sydney, where I could visit my brother, then one of the lovely small New Zealand grounds – happy to be advised – where I could meet my other brother and ….
25th over: England 59-2 (Burns 29, Root 21) We get a close up of Root, eyes darting hither and thither from under his helmet. Southee bowls and Root looks uncomfortable, his feet static. Better next ball, full face of the bat. He nods.
24th over: England 57-2 (Burns 29, Root 19) Henry testing here with his line, but Burns and Root resist doing anything silly. Half an hour safely negociated.
23rd over: England 55-2 (Burns 28, Root 18) Just a couple from Southee's over – this feels like a crucial first hour. Both these two have the ability to bat big, but are vulnerable early on.
William Hargreaves poses an interesting question
22nd over: England 54-2 (Burns 28, Root 17) Henry and Watling have an earnest chat. A few balls later, Root glove/pulls him, slightly uncomfortably down for four.
Thank you Johns Potter and Little for pointing out that England are batting not New Zealand…
Also, and apropros of nothing, I saw Dear Evan Hansen last night (if you love a good emotional roller-coaster with cracking songs, I recommend it). Surely The David Warner story has got to be a musical. Did anyone see Shane Warne the musical?
21st over: England 49-2 (Burns 28, Root 13) The grass stripes either side of the wicket are very defined, all lime candy cane. Joe Root brings the England fifty up with a confident-looking pull off Southee.
20th over: England 49-2 (Burns 28, Root 12) At the other end, we have Matt Henry, and Joe Root sends him scurrying for four, a back foot push through backward point. Burns then plays a slightly less confident looking shot, which squeezes through third man for another boundary We get a wide-lens view of the ground – it's gorgeous, green and very pleasant. Trees, grassy knolls, picnics and a few half-hearted clouds.
19th over: England 40-2 (Burns 24, Root 7) Southee bowls the first over of the day, just a single from it, a back foot push from Root. A discordant version of Jerusalem drifts across the ground.
TMS tells me the players are out, but the TV is running rather behind … this could be interesting…
We need to talk about David Warner. What a story – boy from the wrong sides of the tracks, proves the doubters wrong, falls dramatically from grace, then redemption.
Interesting. Atherton is backing Root to make runs today. He's been watching him in the nets, and "he's been hitting the ball beautifully." He's tougher, Athers adds, than his angelic features might suggest.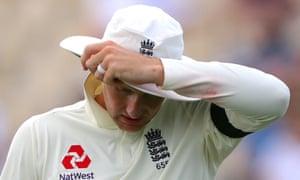 There's a christmas tree in the Sky studio. The mood in there is moderately dark. Mark Butcher says Joe Root, "has to go out and make a big one."
Out on the ground, Ian Ward and Mike Atherton are talking to Jos Buttler. Wardy admires Jos "beasting it" in the gym.
Athers asks how Joe Root is coping with the pressure,"You wouldn't know any different," says Buttler. "He manages himself very well. Cream always rises to the top, his batting form will come back, probably today."
Hello fellow time-zones-surfers, and welcome to day three of the second and final Test against New Zealand. They're starting half an hour early today (9.30pm GMT, 10.30am NZST) in Hamilton, still making up for the grotty weather that truncated day one. New Zealand are whistling to the ground this morning, their bow ties perky, their trainers bouncy – two English wickets down with only 39 on the board.
All is not lost for England, but two of the newbies failed to endure a nasty final session of 21 overs yesterday evening. Unfortunate Dom Sibley, never the nimblest, was cuffed on the helmet and then on the box on the way to being bowled by a leg-stump half volley. Joe Denly prodded at a wobbler from Matt Henry and was well caught by BJ Watling behind the sticks.
The two men who will walk out this morning are Rory Burns, dropped twice yesterday, and Joe Root, suddenly under reams of news-print pressure over the captaincy. "We know we've got to go and bat 150 overs here to set up the game on day five," Stuart Broad said. "Our opportunity is there…Here we're not batting with a scoreboard of 500. They made 375. So, I think our pressure is reduced slightly and we just go and play."
If you're a batsman, you'd want to bat out there, wouldn't you?" he added helpfully. "If you were good at batting, you'd fancy that."
Let's see hey Stuart.
In other news, poor Jack Leach is still in hospital with gastroenteritis, .