Best Gaming Deals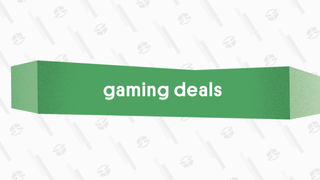 Best Gaming Deals
The best deals on games, consoles, and gaming accessories from around the web, updated daily.
Featured Deal: Batman 80th: Red Rain Batman | $5
The best Funko Pop deals of August 2020 are here.
Love 'em or hate 'em, Funko Pop toys are absolutely ubiquitous. There's a licensed Funko toy for nearly every significant movie, TV series, comic book, and video game, not to mention many bands, celebrities, and historical icons. And we're still barely scratching the surface.
There are thousands of Funko Pop toys out there, and thankfully it's not that difficult to find some excellent deals. We've picked many of our favorites below, including some figures available for just $2 apiece as well as sizable discounts on larger premium releases.
Also, be sure to check out GameStop right now, as they're offering a Buy 3 Get 1 Free deal across all of their full-priced Pops, which include exclusives, pre-orders, and all kinds of other intriguing releases.
G/O Media may get a commission
Demand for "Baby Yoda" stuff has been high since The Child first appeared on The Mandalorian—and if the standard Funko Pop didn't sate your desire for silly trinkets, what if we added… a frog?
It's on sale for just $8 right now. And if that's not a large enough Child for you, how about a 10" Super-Sized Pop for $30, or 25% off the list price?
Fortnite Pops | $4-5 Each
Funko produced an incredible number of Fortnite-themed Pops and other merch, and while we might argue that not every Fortnite skin is exciting enough to warrant a toy, everyone's tastes vary.
Right now, a few of the Pops are as cheap as $4-5 apiece at Amazon: Valor, Love Ranger, Ultima Knight, Tower Recon Specialist, and more. If you're a fan of any of these skins, now you know where you're dropping… your hard-earned cash.
Disney's live-action Mulan flick won't hit the big screen thanks to COVID-19, debuting as a streaming rental instead, which might be disappointing to fans of the original animated classic. But if you love Mulan, here's some good news: a sizable 37% savings on this sharp Mulan on Khan Funko Pop Rides toy.
Thor's in a weird place by the time most of Avengers Endgame takes place, which most of us can probably identify with. Right? Sure, that makes sense.
Anyway, "Bro" Thor: shirtless, unkempt, wielding a slice of pizza? That's the Thor we need right now. And it's the Thor you can get for just $5 at Amazon right now as a Pop. If that's too much skin for you, Casual Thor adds a robe for a few bucks extra.
The Dark Knight hasn't looked much darker than this vicious, vampyric rendition from an early 90s Batman/Dracula mash-up series.
The savings right now are almost as sharp as his fangs, with Amazon selling this 80th anniversary Funko Pop for more than half off the list price. And if you're looking for a much more positive rendition of the Caped Crusader, then consider this stunning Pride 2020 version below.
Black Widow should have been out in theaters by now. We should have all seen the movie by now. Instead, we're stuck at home thanks to the pandemic, and who knows when the next Marvel flick will actually come out?
At least the toys were still released. If you're a fan of Nat and her many stylish duds, then this sleek white jumpsuit from the trailers surely caught your eye. It's 26% off already at Amazon if you're keen on building up your Marvel Pop set while we await the film's eventual release.
This isn't the first time that Funko has made a Pokémon Pop of the beloved Eevee, but this new design will launch alongside the first trio of Eevee evolutions.
That's right: Flareon, Jolteon, and Vaporeon are coming along for the ride. Each one is available for pre-order now at Amazon for $9 apiece (except Flareon, which has bounced back up to $11) and are listed to release on October 31.
It's the prank so great it appeared in the pilot for both the UK and US versions of The Office: the stapler trapped within the gelatinous confines of a Jell-O mold.
And now you can have the US version of it with Dwight in Funko form for 29% off the list price right now from Amazon. Another discounted Office favorite? Casual Friday Meredith, complete with plastic pixelation to blur her exposed bit, available for $8.
Talk about an exclusive well suited for Hot Topic. The retailer has a special version of Overwatch heroine Tracer in her bold punk skin, complete with eye-catching pink hair.
Tracer has plenty of style here, but you won't have to spend plenty of cash to bring this Funko Pop home. It's nearly half the price at Hot Topic, on clearance.
Relive this iconic anime moment in Funko's Pop recreation of Cowboy Bebop's Ballad of Fallen Angels showdown between Spike and his former comrade, Vicious.
Is it "Don't bring a sword to a shootout" or "Don't bring a gun to a swordfight"? We don't know, but it makes for incredible tension in the show and looks pretty cool as a Pop too. It's half-off the usual asking price at GameStop.
The third child herself from the beloved Neon Genesis Evangelion anime series, Asuka Langley Soryu, arrives in Funko form. Can you read her perpetual disappointment in you from those big, beady eyes? We imagine so, yes.
Asuka currently has the biggest savings of the Evangelion Pops at Amazon right now, marked down to just $6. And while we're talking discounted Eva Pops, check out this amazing blood-soaked Evangelion Unit 01, standing at 6" tall. Very tempting indeed…
Bring the powerful Jedi warrior Rey—fresh from her latest appearance in Star Wars: The Rise of Skywalker—to your Pop collection for just $6 on Amazon right now.
Alternatively, spend about a buck and a half more to grab the eerie Dark Rey from her visions, complete with black robe and Darth Maul-esque dual lightsaber. Better yet, grab both for about the cost of one standard, full-sized Pop. Done and done.
If you still need Shazam's best friend Freddy to complete your set of Funko Pops from the fun DC flick, then now's the time to strike. GameStop still has this guy in stock for just two bucks, although we doubt supplies will last long!
---
READ ORIGINAL ARTICLE HERE