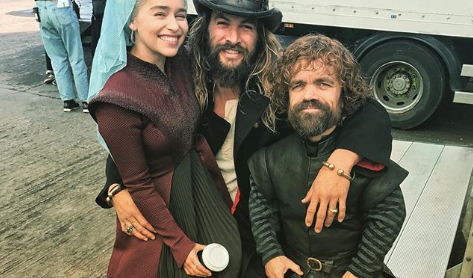 Warning: This post contains spoilers for Game of Thrones plot points through season 8, episode 5. It also contains adorable behind-the-scenes photos of the cast and crew being cute between takes, and you might not be able to help yourself from squealing in delight when you see them. You have officially been warned.
We are coming to the end of Game of Thrones, the show that has carried us (and to be honest, HBO) through nearly the last decade. After Sunday, there will be no more new Game of Thrones episodes ever…or at least not for like two years until they decide to "reboot" it. I know, I know. It's hard to hear, and it's even harder to comprehend. And if it's so difficult for us as fans, imagine what it's like for the cast and crew to let go of a life-changing, career-making job like this one.
Luckily, many members of the beloved Game of Thrones cast have Instagram. And post to that Instagram. From set. So while we might be saying goodbye to Game of Thrones, we never have to say goodbye to these cutie patootie behind-the-scenes posts from the citizens of Westeros.