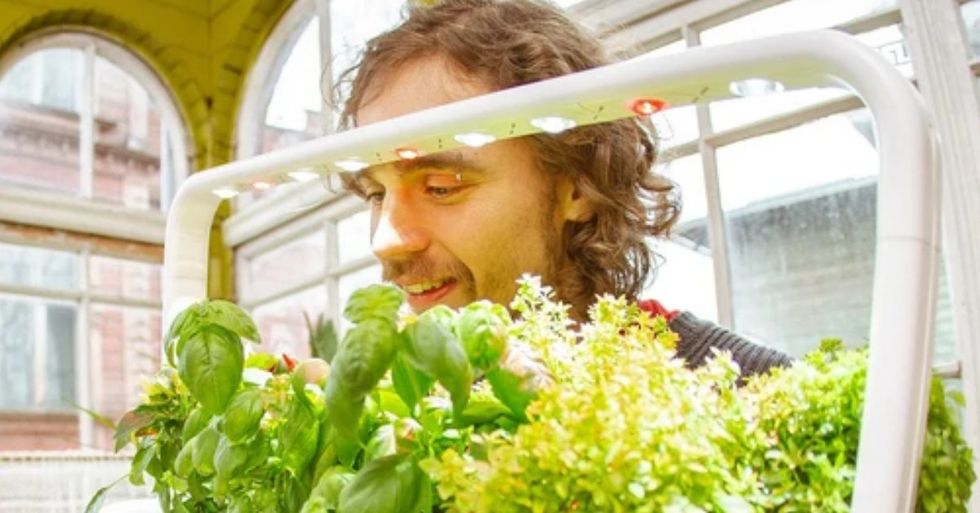 Growing your own organic herbs, vegetables, and fruits is a great way to eat healthier and, at the same time, do something good for the environment. Unfortunately, a lot of people assume they can't grow a garden because they don't have enough space, time, or know-how. But that's not actually the case. Or at least, it's not any more. Thanks to an amazing high tech gadget called the Click & Grow Smart Gardens, these days anyone can grow their own organic produce with the touch of a button, no matter where they live.
Fully Automated Gardening? Yes Please
What exactly is the Smart Garden? Click & Grow calls it the Keurig of plants. And that's actually a pretty great description.
The Click & Grow Smart Garden is a fully automated gardening system that lets anybody grow herbs, fruits, vegetables, and flowers year round, in any environment, with absolutely no effort or horticultural knowledge. Like a Keurig coffee maker, all you have to do is insert a pod, fill the tank with water, and press the button. Technology takes care of the rest.
Click & Grow has over 50 different pre-seeded 100-percent biodegradable plant pods to choose from, including tomatoes, peppers, arugula, green leaf lettuce, basil, chives, cilantro, petunias, pansies, lavender, and so much more. You can also buy "blank" smart soil pods and use your own seeds to create your own custom plant pods. The possibilities are almost endless.
You don't have to know anything about gardening to use the Click & Grow Smart Garden. However, if you'd like to learn, the Click & Grow companion app can make you a plant expert. Simply check in with the app daily and it will explain exactly what's happening during each stage of the growing cycle.
The Click & Grow Smart Garden uses advanced horticultural technology specifically designed to speed up growth and maximize yields. This technology includes:
Biodome Sprouting: lids cover the seed pods during the initial growing phase, creating a greenhouse effect that induces faster sprouting.
Grow Lights: professional grade LED grow lights with enhanced light spectra bring about faster germination. These lights turn on and off automatically to mimic the natural light cycle, making sure plants get the exact amount and type of light they need to thrive.
Automatic watering: sensors detect moisture levels and automatically water your plants when needed, with each reservoir tank refill lasting about one month.
Smart Soil: instead of regular soil, Smart Garden seed pods use a proprietary nano material created by Click & Grow. This material keeps soil pH balanced, automatically releases nutrients in sync with the plant life cycle, and contains micro oxygen pockets to give plants ample breathing room and nutrients when the smart soil is wet.
All this tech wouldn't be very appealing if it cost an arm and a leg to run. Luckily, the Click & Grow Smart Garden is incredibly efficient. It uses 95-percent less water than traditional agriculture, while producing faster growing cycles without toxic pesticides or fertilizers. Meanwhile, the Smart Garden's efficient LED grow lights cost roughly $5 to $15 per year to operate. That's probably less than you'd spend on gas going back and forth to the nursery to get supplies for a traditional backyard garden.
Of course, not every prospective indoor gardener has the same needs. Some people just want a minimalist countertop unit to grow their favorite herbs. Others want a full-blown indoor farm. That's why Click & Grow created several different Smart Garden models with variable grow capacities.
As the name suggests, the Smart Garden 3 is capable of growing three plants at a time. Measuring just 12 inches wide and 5 inches deep, with a max height of 19 inches, this model fits almost anywhere. That makes it perfect for anyone with extremely limited space, or who isn't quite ready for a bigger indoor garden.
At just $99.95, the Smart Garden 3 is the most affordable of Click & Grow's automated gardening systems. It's available in four different colors and comes with the companion app as well as a complementary set of three basil plant pods.
For those who live by the motto "go big or go home" there's the Smart Garden 27. Though, in this case, "big" is a relative term. Consisting of three Smart Garden 9 units plus a stylish pine plant stand, the Smart Garden 27 is capable of growing a whopping 27 plants at a time. However, it barely takes up any room. The entire system has a footprint of 26 inches by 10 inches, and it stands just 47 inches tall. So it's roughly the size of a small bookcase.
The Smart Garden 27 is certainly a more significant investment than the Smart Garden 3. However, if your household consumes a lot of fresh organic product, it won't take long for the Smart Garden 27 to start paying for itself. It's available in three different colors and comes with the companion app as well as a complementary set of nine basil plant pods, nine lettuce plant pods, and nine tomato plant pods.
Eating local and organic helps you reduce your carbon footprint and cut back on the amount of harmful chemicals that wind up in our watershed. And that used to be pretty expensive. But thanks to the Click & Grow Smart Garden, we can all grow affordable organic produce right in our own homes with just the touch of a button.
If that sounds good to you, click here to learn more about Click & Grow Smart Gardens, today.
*Upworthy may earn a portion of sales revenue from purchases made through affiliate links on our site.