Browsers may block some cookies by default. Click accept to allow advertising partners to use cookies and serve more relevant ads. Visit our
privacy policy page
for more information.
Another day, another bunch of rumors about various members of the Kardashian family. This time, they're about Kourtney Kardashian. After a recent promo for Keeping Up With the Kardashians, people have begun speculating about the mother of three's dating life. Or possible dating life, anyway. So, who is Kourtney Kardashian dating? We think we have a pretty good idea.
So, who is Kourtney Kardashian dating in 2019?
The official Keeping up with the Kardashians Instagram account recently posted a very Kourtney-centric promo. In the promo (which we're now calling the Kourtney Kardashian hickey promo), Kourtney wanders into a conversation between sisters Khloé and Kim, who immediately start grilling her about what they think is a hickey on her neck.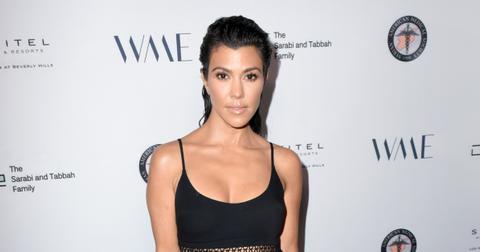 "Kourtney, what is this hickey?" Kim asks. Khloé is quick to jump onto the interrogation bandwagon. "What is on your neck?" she asks. Kourtney tries to play it off, saying "my hair is here." But come on, Kourt. They're not talking about your hair.
Her sisters don't fall for her attempts to derail the interrogation. "Who gives you a hickey like that?" Khloé asks again prompting Kourtney to respond, "Just let me live my life!"
That's pretty much where the clip ends, but we all know there's no way Kourtney's sisters are going to let her off the hook. And neither are millions of KUWTK fans. Everyone suddenly needs to know — Who gave Kourtney that hickey?
Well, the answer may actually be pretty simple. According to TMZ, Kourtney was recently seen at LIV nightclub in Miami with her ex-boyfriend Younes Bendjima. The 26-year-old Algerian-born athlete/model dated Kourtney for a while back in 2018 before the two called it quits due to being long distance.
Now, though, it looks like they're officially back together.
TMZ updated its story to say that a source close to Kourtney and Younes has confirmed that the two have actually been seeing each other for a few months now and have just wanted to keep things private. But when you're a member of the Kardashian family (or you're dating one…or you're rumored to be dating one), privacy is kind of taken off the table.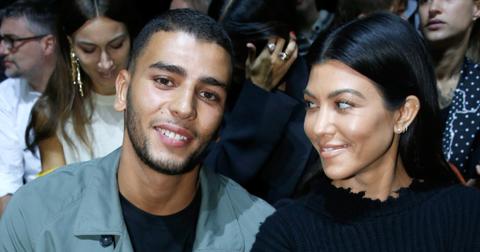 So, is Younes the one who gave Kourtney that hickey?
Probably! The Kourtney Kardashian Hickey Promo could have been filmed before the two were officially back together, but we're guessing the hickey-giver is in fact Younes. Either way, the answer to those asking "Who is Kourtney Kardashian dating?" seems to be official: It's Younes Bendjima.
Are Kourtney and Younes going to stand the test of time as a couple? Maybe this second go-round will be easier for the two of them. We're just hoping that we actually get to see them together!
We know that Kourtney has been trying to step back from the show to focus on her kids — which seems like a great choice for her! And we know we can always count on the rest of her family to keep us more or less in the loop on all the hot family gossip.
Catch new episodes of Keeping Up With the Kardashians Sundays at 9 p.m. ET on the E! Network.
' && window.scrollY > killableAd.offsetTop + killableAd.offsetHeight + window.innerHeight * scrollLoadOffset) { killableAd.style.height = killableAd.offsetHeight + 'px'; killableAd.innerHTML = "; if (window.prdgm.debug) { var id = killableAd.id.split('-'); id.pop(); id = id.join('-'); if (window.prdgm.ads[id]) { window.prdgm.debug('KILLED ' + window.prdgm.ads[id].adUnitPath); } } } } } var lastScrollTop = null; clearInterval(handlePaginatorScroll.interval); handlePaginatorScroll.interval = setInterval(function () { var scrollTop = window.scrollY; if (scrollTop !== lastScrollTop) { if (loadNext()) { lastScrollTop = scrollTop; } killAds(); } }, 100);
}; handlePaginatorScroll.pages = { length: 6, viewPercentages: [ 50, 75 ] }; handlePaginatorScroll()