Posted November 22, 2019 01:30pm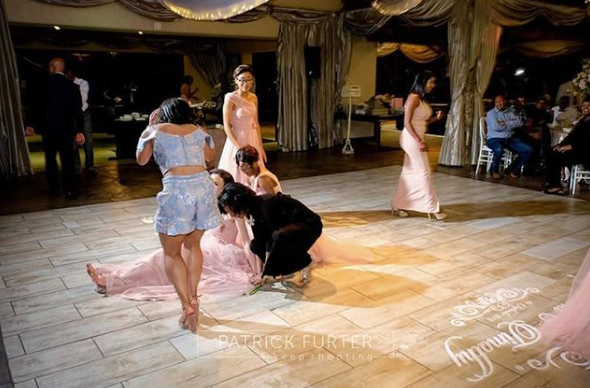 Photo Credit: Instagram/cindy_leigh_brown/
Most times, people behave well at weddings by coordinating themselves and focusing on the couple but we cannot deny that there are times where a perfectly planned wedding gets destroyed by the behaviour of a friend or any other guest. Are you going to a dear friend's wedding?
Keep the following things in mind and avoid doing them.
Do not get drunk: How can you go to your friend's wedding and get wasted? How would you feel if tables were turned? If you want to test your drinking abilities then you should be at a bar, not a wedding.
Phone: If you are there for the wedding then be there but if you want to be all up in your phone then you do not have to go at all. It is pretty rude when you at your friend's wedding and all you do is press your phone and giggle. You have to know that death will not come knocking on your door if you keep away your phone for a day to honour someone you call your friend.
Do not bother the bride and groom: It is true you know the bride and groom but you do not have to keep bothering them for their attention. Nobody needs you to prove your relationship just let them enjoy their day while you smile and rejoice with them from your seat. After the wedding, you can go visiting.
Observe basic etiquettes: This is very important, do not go to your friend's wedding to make noise or hoard drinks and food by stuffing them into your bag what do you expect other guests to eat? Speaking of food, kindly eat properly instead of putting the food through embarrassing mastication.
Uninvited plus one: This is not accepted do not invite a plus one that your friend does not know about because you feel your friend won't get angry. Please note that everything takes planning and you destroy it by making one of your own. If at all you want to take a plus one, let your friend know way ahead of time.
Catching the bouquet: Do not, I repeat, do not exhibit your Spartan nature when it is time to catch the bouquet because it is all fun and games, therefore, no one has to be rushed to the hospital because of you. It will cast a dark cloud on an interesting wedding.
Do not be an all-around critic: You do not have to criticize everything at the wedding making it look like the bride and groom do not know how to get things done. Keep your perfect opinion to yourself.
Privileges: Do not expect special privileges because you are friends to the bride and groom. If everyone is getting one souvenir then you should receive yours with joy and contentment instead of asking for more. You did not go to the wedding with the aim of starting a business even if you did, your friend's wedding is not the place for you.
Paparazzi: Please and please, do not block the photographers from doing their job because they were paid for it and the bride and groom have to get their money's worth. You can get some really good shot here and there but do not make it a newfound career. It gets too rowdy when everyone is in their faces with phones.
Do not propose: This is not acceptable, I understand how love in the air can get you in your feelings but do not propose at your friend's wedding. When leaving your house, ignore the voice or spirit that is advising you to put the ring in your pocket.
Written by Lola Akinseye